We've been back home in the Smokies a few days but I've been recovering from an illness that started before our trip and only seemed to get worse with every day on the water. After a few days of intense recovery aided by a shot at the doctor's office and prescription antibiotics, I think I can finally get the last bit of our trip to Yellowstone Country wrapped up.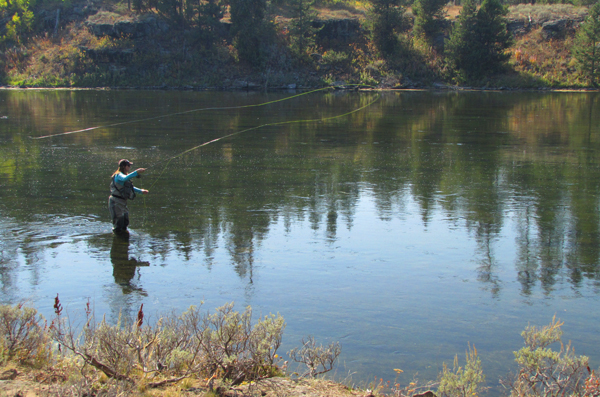 First of all, if you've never fished the Railroad Ranch section of the Henry's Fork you'll either love it or hate it. It's among the toughest pieces of trout water anywhere in the world with tons of big rainbow trout eating small flies. Furthermore, when you hook one of these fish you're forced to contend with a powerful fish that has a river full of grass to wrap up in.
Charity and I fished the Ranch hard for one day and managed to hook up five very nice fish between us. All the locals assured us that was a great effort as it's not unusual to get completely ignored. There's no way around it. The fish are tough and they live in a river where good drifts are tough to achieve and the odds are with the fish when you do hook them.
We cracked the code early and found that the fish would eat an unweighted #18 Pheasant Tail Nymph… As long as there wasn't a strike indicator or dry fly above. What I refer to as Jedi Nymphing. You make an accurate cast and watch the fish, setting the hook if he eats something when the timing is right for it to be your fly.
Out of five good fish hooked we landed exactly none. The most impressive one ran up river while I trotted along the bank in pursuit. The big rainbow eventually veered across the river and my line went slack with about twenty feet of backing out of my rod tip. I literally threw the rod into the grass I was so disgusted.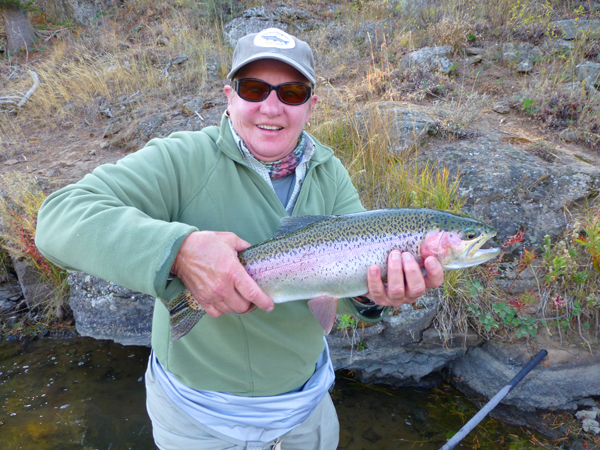 Lynn Rohloff with a beautiful rainbow on the Ranch
Lynn spends the bulk of her fishing time at home on the South Holston so she's used to working tough fish. She was more than impressed with skill required by the Ranch, but she also rose to the occasion. She managed to land three very nice fish in a single day and the fish pictured was the best of the day. This one ate a hopper pattern. Believe it or not, I feel certain she was even more excited to finally see a moose!
Yes, while that is a disgusting display of trout largess, it is just a warm up to what Cliff Posman pulled off over on Sheridan Spring Creek, a smaller piece of water further up the valley.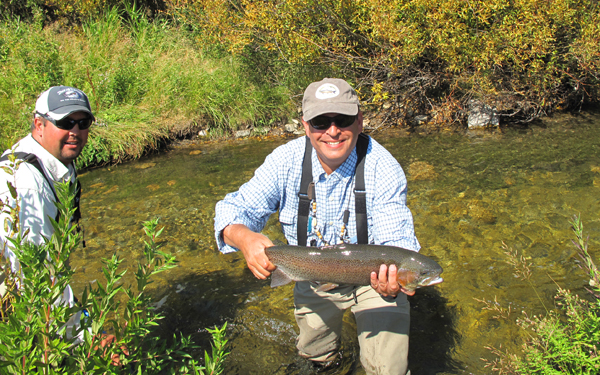 Even more disgusting, the fish ate a dry fly….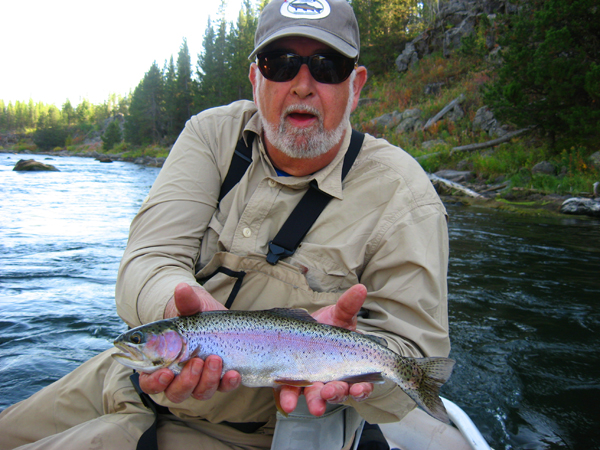 Dave Selph is a pretty cool cat who is a veteran of one of our previous western trips as well as our first Hazel Creek camp. Here he shows off a sold rainbow in Box Canyon. Looking back on it I think Dave probably was our most consistent angler day in and day out. He had his share of up days and down days like everyone else, but he always seemed to keep a bend in his rod. Furthermore, the one tough day I remember him talking about ended up with him showing us a photo of a thick 19″ fish.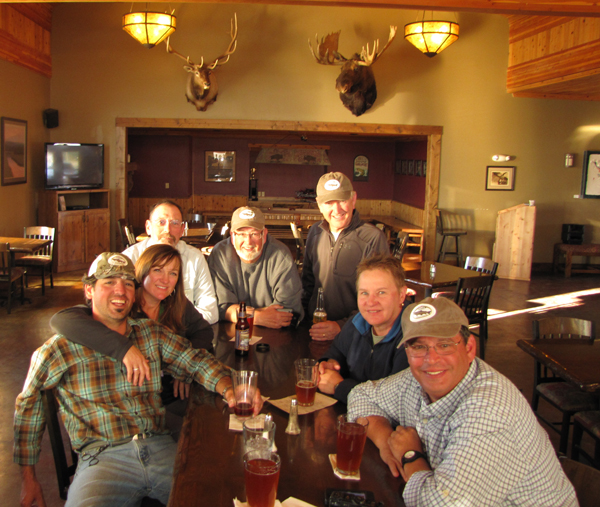 The fishing was great, but one of the best parts of the day was when we would all regroup in the bar at the end of the day. We all reveled in the glories and wallowed in the sorrows of the day's fishing. Furthermore, we all gained inspiration as to where we might go fishing the next day. With multiple sections of the Henry's Fork, plus the Madison River, a few small tributaries, not to mention Yellowstone National Park there was far more water than any of us could fish in the time we had.
Speaking of Yellowstone, that's where Charity and I headed after our week at TroutHunter was up and we bid farewell to our group and the Henry's Fork. We didn't have much time to fish this year, but we both knew where we'd go. Charity and I really have a thing for the Yellowstone River. It's a truly large river with literally hundreds of miles of high quality trout water in amazing scenery. Many dismiss the Yellowstone since it rarely produces goliath size fish, but any time you can have nice fish rise to a dry fly in a scene that rivals any artwork I'll be there. Furthermore, there are many, many miles of the Yellowstone that require a strenuous hike to fish so you can be assured you'll be alone.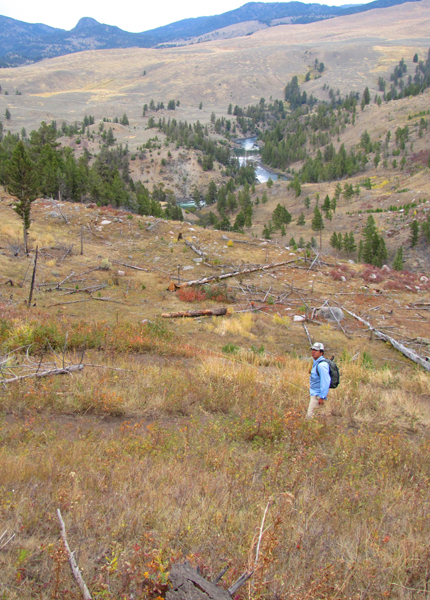 Yes, that is a long, strenuous hike. Not everyone's cup of tea, but I'll chug it down every time.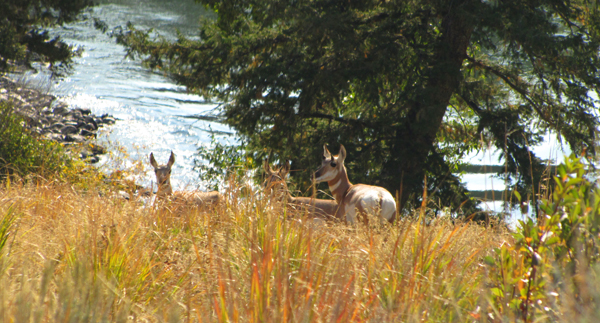 A trio of pronghorn along the Yellowstone River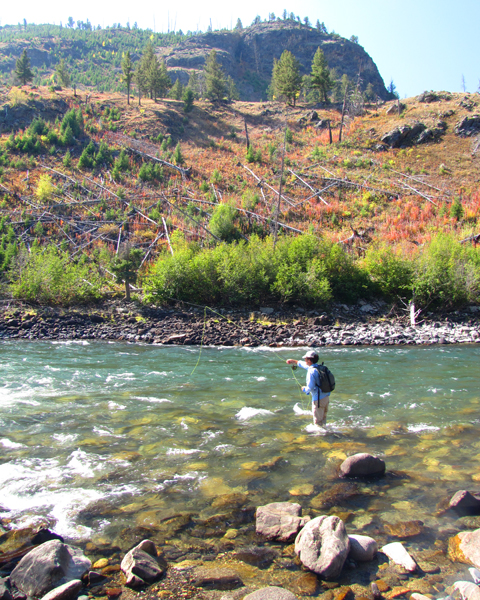 In my happy place…
Believe it or not, there are times when we actually have to remember to take photos. This day on the Yellowstone was one of those days. It was a beautifully sunny day and while the cutthroats were far from suicidal, they ate well enough you didn't have to concentrate too hard. It was just a perfect day out in the world and close to the end of the day I realized we hadn't taken a picture of a trout all day long. This was the last one of our trip.