The combination of holiday get togethers and foul weather kept us off the water far more than is usual, but we still managed to get out a little bit over the past couple of weeks. It's winter which means cold and wet in the Smokies. Water levels have been anywhere from average to high, which generally means high water. Streams are still quite fishable, but you have to pick and choose your spots on larger streams like Little River, Deep Creek, and the Oconaluftee River.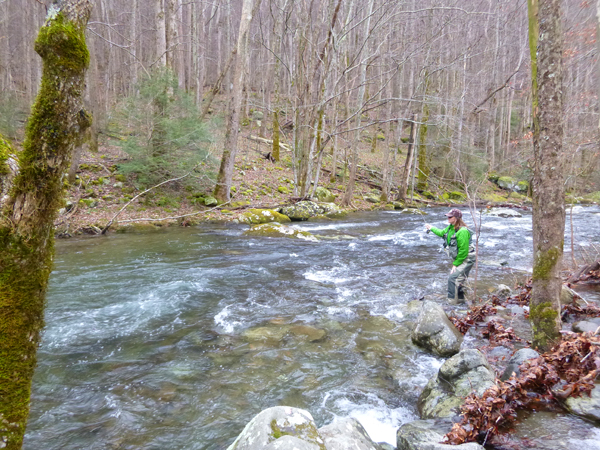 Nymphs, strike indicators, and even a split shot or two should be part of your rig right now. We've been sticking with two of our old favorites, the Pat's Nymph and Zelon Nymph, but Tellico Nymphs, Prince Nymphs and other common patterns will certainly draw strikes. The key to hooking fish in cold, high water is to focus your efforts on the deepest and slowest pockets and seams.
Tailwaters
We had some superb flows on the Clinch and Holston Rivers during the holiday period but we weren't able to capitalize on it. Since the weather has turned wet flows have bumped up substantially. TVA has certain levels in mind for the reservoirs during the winter months to prevent spring floods so outflows have increased.
At the moment on the South Holston and Watauga have flows negotiable for wading, but the Clinch and Hiwassee have little to offer those without boats. Cherokee Dam seems to have a few hours each day with low flows, but you'll need to be near the dam to take advantage.