The "going out like a lamb" part of the month? Ummm… Not so much…
Here's where I was yesterday morning…
 Walking down the boat ramp on the Holston River to where my two customers for the day were rigging up. The snow was falling, the wind was howling, the cows were lying down, the birds were nowhere to be seen, and the trout…. Well, at least a few clocked in to work.
I think we boated about 7 or 8 fish over the course of the day, but it was grim business. I noticed a conspicuous lack of cameras being used in the boat. I'd net the fish, the boys would nod, maybe sniff and wipe their nose, and I'd use clamps to unhook the fish being extra careful to keep my hands dry.
The wind was a t steady 20 mph with gusts to 40. Holding the boat was tricky and fly casting? Let's just say it wasn't a day to film an instructional video. Harold and Jim did a great job hooking fish on nymphs and Buggers and while we cut it a little bit short, it was pretty much the full day.
Fast forward to this morning and day two of "Harold & Jim's Excellent Fly Fishing Adventure." I went outside to fetch the thermos to prep it for the day and this it what I found: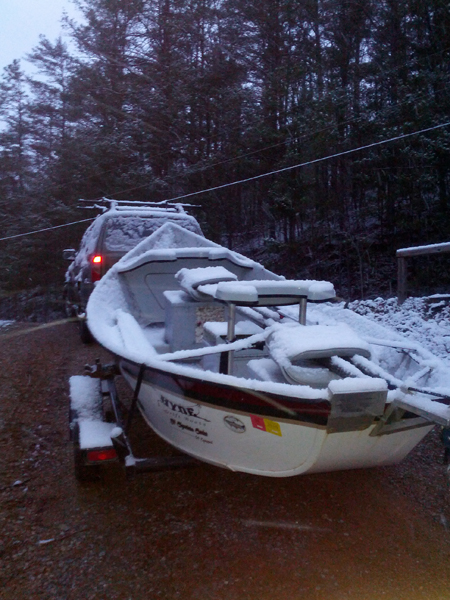 I had barely gotten back inside when the phone rang. It was Harold and he asked what my thoughts on the day's fishing were. I told him the weather would be about the same minus the extra wind, but it looked like another day of wet snow. The fishing might be better but we'd have to go to find out.
He took a moment of silence to digest the information. "Yeah… We just looked outside and saw all the snow…"
"You know, Harold, this is supposed to be fun not an endurance test. You guys put in a good showing yesterday. If you want to go we'll go, but I'm getting paid for the punishment. You don't have to do this, you know."
Looks like we're going to pick this up later on a warmer date. We'll let you know how that turns out…