Take a good look at this. These photos were taken yesterday, on March 27. It's probably the last look you'll have at snow in East Tennessee for a while. The Smokies might see a little more along the ridgetops, but as far as we're concerned it's done.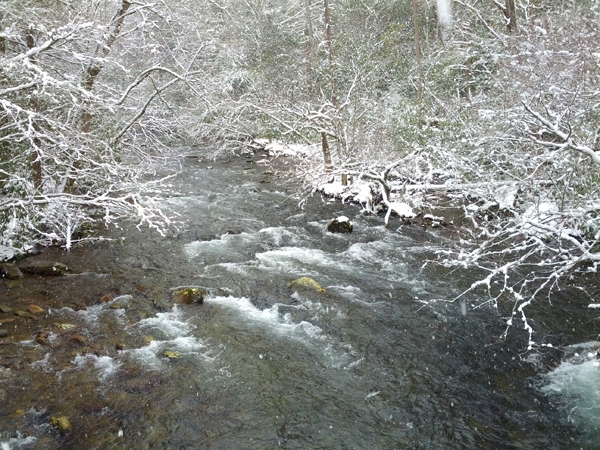 Back in November or early December this would have been a wondrous site. Now on the cusp of April not so much. We've had some warm spells, insect hatches and rising trout so a return to snowy weather just doesnt get us so excited a few days before Easter.
As you can see from the following image there was about 6″ of snow on the ground at Elkmont and we heard there was at least 12″ along the crest of the mountains with some deeper drifts.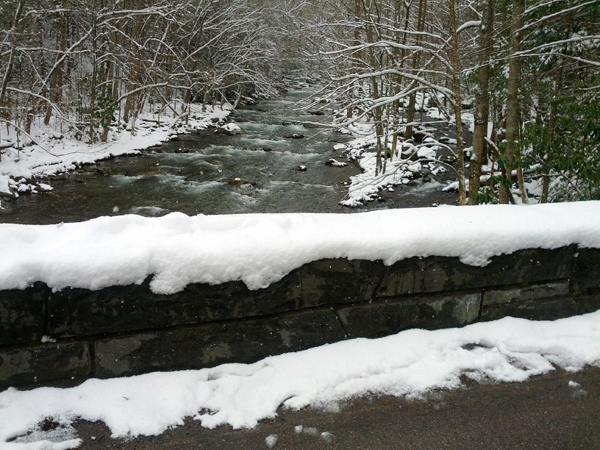 The tailwater situation is also starting to come along, although not so well as we'd like to see. The Clinch has had some good windows of good flows, but lacking in the very important consistency department It's pretty tough to check the schedules daily for most people and go at a moment's notice. The Holston River has had more consistency, but you still need to pay attention.
Actually, most of the tailwaters have better situations than our personal favorites, so let's go down the list.
The Hiwassee has started to move to its annual spring "pulse" schedule of 3 hours off/1 hour at a fraction of a generator. This is a very nice set up.
The South Holston is sluicing 200 CFS right now, which is almost too good to pass up .
The Watauga, as always, seems to always have a pretty negotiable flow schedule.
We're keeping an eye on spring hatches in the Smokies and expect to see things really start to crank up, albeit somewhat late this year, by this weekend or early next week as the weather is scheduled to improve dramatically.