We've obtained a calendar of fisheries projects taking place in the Smokies during 2013. This is your opportunity to learn all kinds of things you didn't know about Smoky Mountain trout, have fun, and give back to the resource. Much of the work that gets done in Great Smoky Mountains National Park is accomplished through volunteer labor.
Fisheries projects in the Smokies require plenty of volunteers as there are only two permanent fisheries employees who work for the park. Much of the seasonal work force hired by the fisheries department is paid for with funds donated by outside organizations like Friends of the Smokies and Trout Unlimited.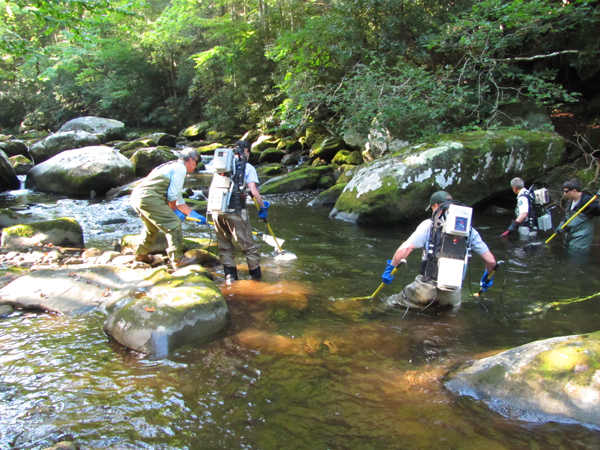 Most of these projects involve tracking of trout populations with backpack shockers. We call these the "truth machines" because you will see every last fish in the river. It's absolutely stunning to see how many trout live in these streams and it's not unusual to see some big fish you didn't even realize existed in these waters.
No technical expertise is needed. Just come with your waders and be ready to net some trout and haul buckets of fish. All fish are released after they have been counted, measured and weighed. Here's a video of some work we did in the Tremont area of the Smokies last summer. Contact information and the calendar of dates are below.
[youtube]http://youtu.be/58W2_UslYqQ[/youtube]
To volunteer contact fisheries biologists at Great Smoky Mountains National Park.
Matt Kulp at 865-436-1254 Matt_Kulp@nps.gov or Steve Moore at 865-436-1250 Steve_E_Moore@nps.gov
June 17-19 – Lynn Camp Prong Evaluation of brook trout restoration, 4-6 volunteers needed
Meet at end of Tremont Road at 8:30 AM each day
June 18 – River Course Kids Trout Camp in North Carolina, 2-3 volunteers needed
Volunteers will help with classes and electrofishing demonstration
June 20 – Little River Kids Trout Camp at Tremont, 2-3 volunteers needed
Volunteers will help with classes and electrofishing demonstration
June 24 – Trout population monitoring on Little River, 5-7 volunteers needed
Volunteers meet at Little River trailhead at Elkmont to sample the stream above the cabins with a new technique
July 8-11 – Little River Brook Trout Genetics Collection (VERY STRENUOUS) 2-3 volunteers needed
Collect fin clips from native brook trout in remote areas of the Little River watershed
July 22-25 – Goshen Prong & Fish Camp Prong Brook Trout Genetics Collection (VERY STRENUOUS) 2-3 volunteers needed
Collect fin clips from native brook trout in remote areas of the Little River watershed
July 30 – Smallmouth bass, trout, & nongame fish population monitoring on Little River, 5-7 volunteers needed
Sample upstream of Townsend Wye to test new technique
August 13 – Fish population monitoring on Middle Prong Little River, 5-7 volunteers needed
Meet near end of Tremont Road
September 4-5 Bunches Creek & Flat Creek evaluation, 2-3 volunteers per day
Monitoring high elevation brook trout populations