We're accustomed to some blown out days in March and April when strong fronts can dump some major rain on the Smokies and East Tennessee. This has been a pretty regular thing this year and we're well into June! Depending on the flavor of fishing you're looking for, you may or may not find something to your liking.
Some days the creeks are blown out and other days they're the best shot at a trout. Some days the bass rivers are dirty but the TVA tailwaters are fishing. Then again there are days when the big trout rivers are too high and bass and bluegill are the best species to fish for from a boat. We've been forced to take a hard look at conditions everyday and make the call.
Last Friday there was absolutely no place for us to float. The Clinch and Holston were far too high to bother with and all the smallmouth bass rivers were muddy. I called my anglers for the day to break the news, but they asked if I was absolutely sure there was no place to float. It was the only chance they would have for the foreseeable future and they really wanted to get on the water, no matter what the species would be. I told them about one of our local mountain lakes that could be pretty good for bass or simply a day of bluegill fishing. Regardless, I knew we'd have some clear water and willing fish.
They decided that would fit the bill and honestly, I'm glad they did. It was the most epic day of fly fishing with poppers I've ever seen. The average smallmouth was well over 12″ with several REALLY nice ones. In fact one fish just plain cleaned Larry's clock and broke his 12 lb line. Unreal….
The Smokies
The streams have been up and down for a while now. The latest round of rain has water levels spiking, although it will pay to check stream levels. Not everything is in bad shape, but some creeks are well beyond fishable right now. In short, it's not all doom and gloom, but don't expect it to be easy either.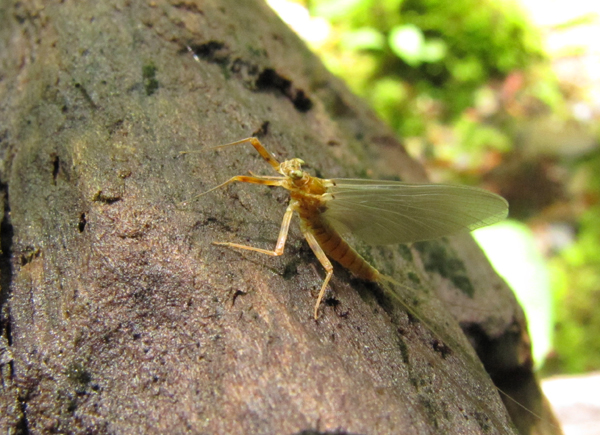 Even with high water we've done reasonably well with dry flies even as nymphs are a good choice. Dropper rigs are always a good way to feel things out. Stimulators and #16 beadhead nymphs are reliable. If you get enough interest in the Stimulator you might switch over to a Parachute Adams or Elk Caddis.