It's not something you'd expect in the Southeast in August, but we're digging out our waders for the cool, wet weather that's headed our way. The forecast for Saturday in Townsend is a rainy high of 72 degrees. We can tell you from experience that if you head on up to Elkmont it will be in the high 60's. Go to higher elevations for brook trout and it will be downright chilly!
The usual setup in August is wet wading and casting a variety of terrestrial fly patterns, but the cool and wet summer we've had has us fishing more like it's spring. Wet terrestrial patterns will certainly work, but the surface variety just aren't producing the same as they do in typically warm summer weeks. In fact, the cool weather has us fishing waters we typically abandon in the summer.
The deeper waters of Little River are fishing quite well with nymphs. And we mean full on, two nymphs with a split shot nymphing. The deep plunges are really boiling so it takes some weight to get down. Tellico Nymphs, Tellico Princes, Copper Johns, Zelon Nymphs, Pheasant Tails, and Pat's Nymphs are all doing quite well.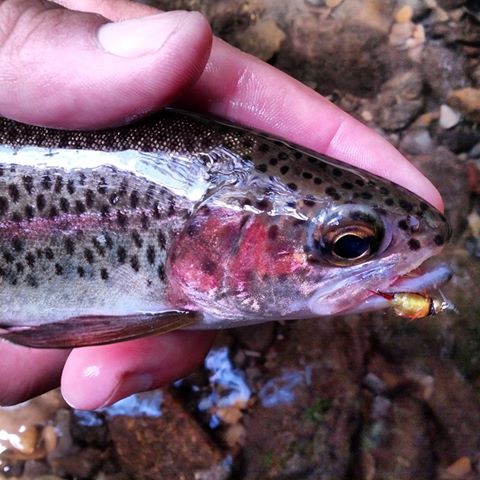 Is it necessary to fish like this? No, absolutely not and I've got to say that we probably haven't caught any better fish than we would have fishing a #14 Parachute Adams in shallower waters. You just get that extra bit of suspense wondering if that next fish will be a XXL brown trout with the deep nymphs.
Tailwaters
Our local tailwater schedules have gone downhill this week, but you can still find some time on the Clinch if you're willing to get out early. You can always expect the recreational schedule on the weekend, but bring your rain jacket and maybe a sweatshirt too. The rainy weekend we have coming up coupled with the frigid waters usually down in the 40's will make for chilly wading.
Hopefully the overcast weather will keep the fish happy and the rain won't be heavy enough to muddy the water. Last weekend the Clinch has a slight tint to it from the stained contributions of Cane and Coal Creeks, but it didn't hurt anything.