We're well into September and the fishing landscape is changing by the day. I just looked at the calendar and realized we're heading to Yellowstone Country in a mere two weeks and when we return it will be October with autumn coming on strong in the Smokies.
But before we start to prognosticate about fall fishing we aren't quite ready to be done with summer just yet. If you've kept up with the East Tennessee fly fishing scene you've probably heard about the great smallmouth fishing we've had this summer. Flows on the big rivers were pretty good and water temperatures were absolutely perfect for the fish to come to the surface on poppers. In fact, we had a number of floats where we never tied on a streamer. Just started with the poppers and stuck with them all day long.
Kenny Macintosh hooked this beautiful smallmouth bass on the Holston River when it blew up on the popper. We weren't really sure what it was though as it didn't really act like a bass. We thought he might have hooked a wayward trout as the fish peeled the line off of his reel almost down to the backing. After a series of jumps we could see it was a bass but this fish was a standout in a species known for the fighting ability.
Unfortunately we're afraid this may be a thing of the past as flows have spiked as TVA starts to draw down the reservoirs for the winter. There isn't much of a window with good water conditions on the Holston River right now but we're hoping for good flows on the weekends.
The Smokies
Fishing in the Smokies settled down from weeks of high water and the fishing has been great there as well. We had a strong set of storms pass through a couple of nights ago, but we've moved into a more typical dry weather pattern which is typical for late summer and fall.
Water temperatures are cool enough that many anglers are even opting to wear waders. We're in between major hatches right now, but you'll see Tricos in mating swarms in the late morning and afternoons and a few golden stonefly husks on the boulders.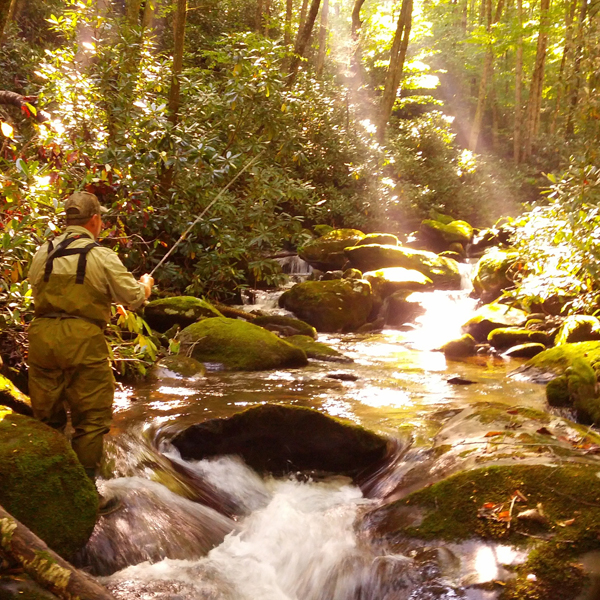 Of course, if you hike into the backcountry chances are very good that a basic #14 Parachute Adams or #16 Thunderhead or Stimulator. All of the fish are happy and as always, the brook trout are particularly greedy.
We hooked up and landed a truly impressive brown trout on a guide trip in the Smokies yesterday. My camera's battery was dead but Ron had his cell phone handy and got some great pictures. I can't wait for him to forward those to me so I can share them, so stay tuned.
Tailwater Trout
The tailwater situation is actually pretty good right now. TVA is once again trying to complete construction on some improvements to the weir dam on the Clinch River. This requires them to have low flows through the day so anglers will have plenty of fishing opportunities as that project continues. Floaters will have to hit the water early to get down the river before flows bottom out.
We've seen good number of small black caddis on the Clinch along with plenty of midges, so bring  your flies accordingly.