You could say we've been out to lunch when it comes to keeping up the fishing reports on our blog, but there hasn't been a ton to report. The government shutdown, which has closed all national parks, has put a serious dent in our business. If that wasn't bad enough it's denied us access to our "happy place". Whenever we have a tough week we can spend a few hours on the stream and things always seem better. Unfortunately that hasn't been much of an option lately.
We spent the early part of this week coming to the conclusion that there was no practical way for us to re-locate or re-schedule our Hazel Creek Camp. All of our participants were disappointed but were very understanding. We have refunded thousands of dollars to customers who could not get a fishing trip in due to the shutdown. This is not a typo nor is it an exaggeration. Thousands of dollars and it looks like there could be thousands more.
Plenty of folks have encouraged us to just go ahead with our business and the hell with the authorities. Stick it to the man! Many of our friends and customers have had a tough time understanding our position, but it all boils down to the simple fact that this is a business for us and we simply can't risk running afoul of the law.
We have commercial use permits to consider. We have them for some areas and not others. Our business partners have them for some areas and not others. Furthermore if we operate outside of the law you can be sure our insurance policies would be ruled null and void if there was an accident that required us to file a claim. If we lose our permits we are out of business. Insurance policies are a pre-requisite for any permits so we need to remain in good standing there as well.
Anyway, there really is some fishing to talk about so let's focus on that.
Tailwaters
The most obvious alternative to fishing inside Great Smoky Mountains National Park is the tailwater rivers. There has been very little opportunity to fish on the Clinch or Holston with good flows lately. It's fall and TVA is draining the reservoirs to winter levels. That has meant high flows with the exception of weekends. While that works for most people out there, the fishing isn't as good as it could be. Whenever the flows are high most of the week the fish get a little freaked out when the flows suddenly get low.
Yes, the fish can be caught but it's always tougher than when flows are consistent on a daily basis. Fortunately we're seeing what may be a reduction in flows based on TVA's flow forecast.
Mountain Streams Outside of the National Park
For those of us on the fringes of the national park it's pretty tough to find good mountain trout water. Here in Townsend the Little River is essentially a smallmouth bass stream that gets stocked with trout in fall and spring. That's OK, but all the tubing business in Townsend has seen a proliferation of posted land. It used to be pretty easy to find nice runs to fish but landowners who were tired of a constant parade of tubers picnicking and often urinating in their yard have closed much of it off.
National Forest streams are really where the action is right now. I headed down to the Tellico River basin yesterday and it just felt great to be on the water. The fish were rising well and the weather was simply beautiful!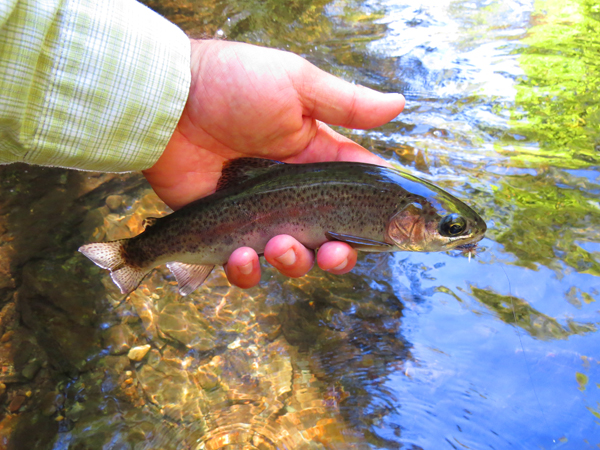 I used nothing but #14 Parachute Adams and caught fish all day long. It was a good day to spend on the water and based on the extended weather forecast these conditions should only get better.
Fall color is progressing day by day, but is only present in pockets. Still, the bright blue skies and pleasantly cool temperatures are clear indications that fall is here. Golden light and colorful foliage are increasing daily.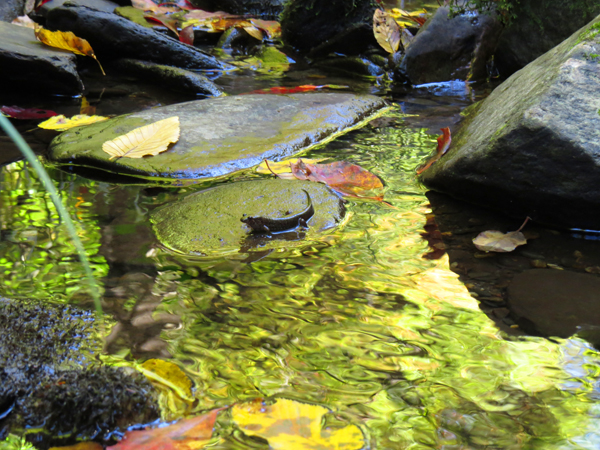 We're trying to fish a little and catch up on our fly tying. I'll wrap up with a quote from John Gierach:
"The solution to any problem—work, love, money, whatever—is to go fishing, and the worse the problem, the longer the trip should be."
Hopefully we'll see you on the water….