Fleece jacket… Check! Warm hat and fingerless gloves… Check! Fly box of nymphs… Check! Split shots… Check!
Are you set for winter fly fishing because it's here. We always say that Thanksgiving week is usually the best landmark on the calendar to expect winter to set in and that's certainly the case this year. Cold weather and snow are forecast for the Smokies over the next few days and the mountain may not get above freezing all week.
We've seen some cold weather along with light snow already, but things came back around with some nice weather. We're not so sure there's much of a reprieve after this though. The water temperature chart for Little River looks like a stock market crash!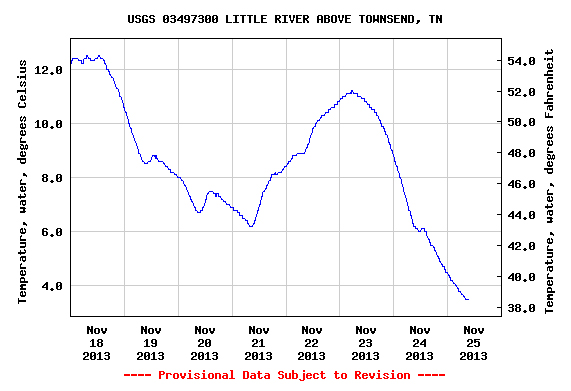 It's not all bad news though. You can catch fish but you'll need to change from the methods that worked so well back in October. Keep some dry flies handy, but be sure to have all the nymphs and strike indicators necessary. A split shot wouldn't hurt either.
No need to rush out on the stream early. Wait for the sun to warm things up and focus your efforts on the sunniest spots you can find.  Fishing a tailwater like the Clinch or South Holston wouldn't be a bad idea either.
The best part about fishing this time of year is that the big tailwaters usually start having fishable flows again. We've since this already on the Clinch and South Holston but are seeing good flows on the Holston and Hiwassee as well. Furthermore there have been some really nice fish caught on these rivers lately.
Nymphs are the way to go on these rivers as well but you should expect the size of the fish on these rivers to easily dwarf what you'll find in the wild streams of the Smokies. Zebra Midges and small Pheasant Tail or Zelon Nymphs are the best flies on the tailwaters.
Just looking for some easy water to catch a few fish without thinking too hard? Delayed harvest rivers in western North Carolina are the ticket. The Tuckaseegee River tops the list but the Nantahala, Big Laurel Creek, and Big Snowbird are all worthy of mention and attention.