It's December and our guide season is over for all practical reasons. We'll certainly take a few folks out on a few days over the next few months, but this is far from what we call our season when we're on the water almost everyday. We've answered a few emails over the holiday concerning the viability of a fishing trip in the next month or so and we've been as honest as we can. Yes, you can fish. No, the weather and water conditions are not predictable and while you may enjoy the fishing we can't be sure of the "catching" more than a few days in advance.
Having said that, I've been out on the water more than previous weeks in spite of some heavy rain. Let's start with the tailwater scene since that's been pretty erratic.
Heavy rains last week have bumped up reservoir levels and TVA has bumped flows in most cases but that may moderate by late this week, and very likely the weekend. The South Holston has the best flows for all concerned as waders have plenty of time and those who feel the need to strip streamers on high flows from a boat should be able to find a stretch to accomplish that, but you'll be on TVA's schedule to be sure.
The Clinch had some decent flows in previous weeks, but it looks like we're in for at least a few days of high flows. The same thing goes for the Holston River below Cherokee Dam and the Hiwassee, although those with verifiable skills with a set of oars will find the Hiwassee to be imminently fishable and fishing well with these high flows.
One last note about the Watauga River. This is a tailwater that typically has very reliable flows and it's been unusually unreliable lately. Watauga Lake has been lowered very low for maintenance so every time there's a heavy rain event flows will certainly bump to keep the reservoir low. The good news is that once the work is done it will take some time for the lake to fill and flows should be very predictable for an extended period when that happens.
Mountain Streams
There's still more snow in the mountains than you might expect and water temperatures have remained chilly as a result. It looks like a mild week of weather should change that though. Right now we're seeing what we'd describe as normal winter flows, but those who only come to the Smokies in the summer would probably regard the rivers as streams as running high.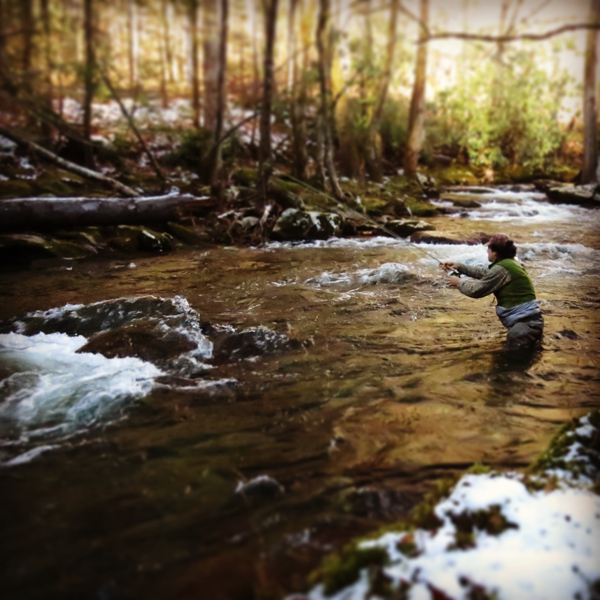 You may find spots where fish will take a dry fly in the middle of the day, but this is the time of year to plunk nymphs. High water and low temperatures will keep the fish from looking up. Focus your efforts on deep slots and pockets where current is negligible. Most anglers will use strike indicators and there's nothing wrong with that but I prefer tight line nymphing for this style of fishing. We're working on a short video to illustrate the technique.
With the off season upon us we have several projects we're working on. First of all we're expanding our online store. We have some new long sleeve T-shirts and more of our Trout Spots long sleeve T's should arrive this week. Additionally we're adding fly boxes and our own dry fly dust, Smoky Mountain Angel Dust.
That's not all, though. We're working on some other ambitious projects that we hope will see the light of day before spring plus we hope to get newsletters out more frequently with pictures and reports from the local fishing scene.