As I sit down to write this Townsend, TN is under a winter storm warning through tomorrow morning. Right now it's raining but we awoke this morning to the gentle tap of sleet outside. The Smokies are forecast to receive several inches of snow as temperatures fall late this afternoon through the night. All I can say is we're glad we got out for some good fishing in the sunshine yesterday!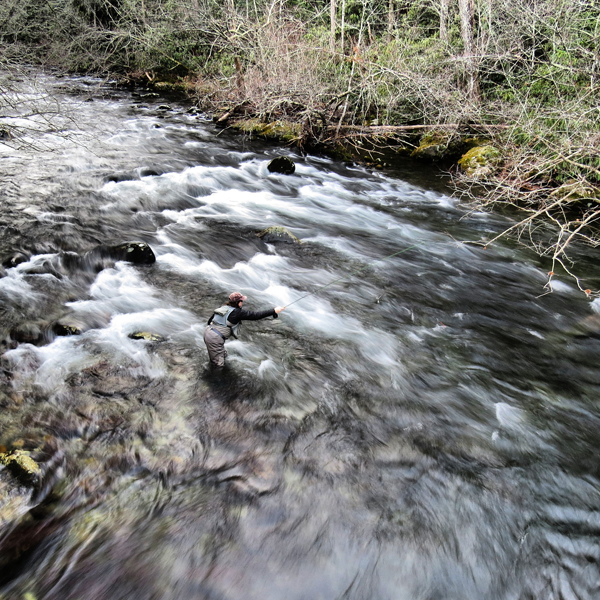 Was it the best day of fishing ever? No, not even close, but to be fair it is January so you can't really ask for much. Water levels in the Smokies were still a tad on the high side and water temperatures were down in the low 40's. Not the best set up but you get what you get and nothing more.
We went with a dropper set up with a #12 Pat's Nymph and #16 Zelon Nymph. A rig featuring a larger stonefly pattern like a #8-10 Ian's Rubber Leg Tellico would have been appropriate, but to be completely honest the rods were already rigged and in the interest of just getting flies in the water we went with what was already tied on. You can always change if the flies don't produce right?
We didn't set the world on fire, but we hooked enough fish to keep it interesting with one nice one in the mix while keeping a couple of kids entertained along the streamside as well.
Honestly things don't look very good for the next week or so. Local rivers and streams have been running high since before Christmas and this latest storm won't help to change that. Even as the mountain streams may have fishable water levels in the coming days we're expecting some cold weather which will likely dip water temperatures down into the 30's.
The tailwater scene hasn't been good for some time and has only worsened. Right now the only fishermen on the tailwaters are those with boats. The South Holston and Watauga may have some good nymphing with BWO's always a possibility this time of year on the SoHo. Streamers are always a good choice for those with a good work ethic.
Those who are thinking about floating the Clinch right now should bring the heavy gear with sinking fly lines and big streamers. Anyone who knows the river well may find a few midge sippers in a spot or two, but TVA is running every drop of water possible through the turbines right now and flows are very high. Those who are familiar with the Clinch know what all this means. You might score BIG on the streamer or might be lucky to get one follow in a seven mile float. If you've said your prayers every night you might be rewarded with one or two rising fish over the same distance but the slightest misstep will put them down. (Anchoring up on risers in heavy flows can be enough to screw it up.)
We'll keep you posted as conditions progress…