The phone rang about dinner time last night and it all became a little more real. It was a truck driver on the outskirts of St Louis heading this way with a load of Hyde drift boats. One of them is ours.
"You're the guy with the trade-in, right?"
That was our cue to get all of our gear cleared out and prep for the swap. I'm not really all that sentimental when it comes to our gear. Charity often jokes that the average fly fisher would be shocked by our garage with premium fly rods and tubes strewn about somewhat willy nilly as we've unloaded tackle from one trip and grabbed a more appropriate rig for a new day on the water. Even so, my drift boat is special.
To get a better idea you have to realize that while I've only owned pre-owned cars, this will be our third brand new, straight from the factory Hyde drift boat on the way. (Our first drift boat was pre-owned and was great too.) We've had this boat for six years and it has been my favorite of all. It's by far the most widely traveled and has the most memories tied up in it. A huge collection of decals adorns the boat's hull and storage boxes.
While the decal that flatly states, "It's not the fly. You suck!" elicits the most comments, I have to say that my two favorite decals are on the back left, port side for the waders out there.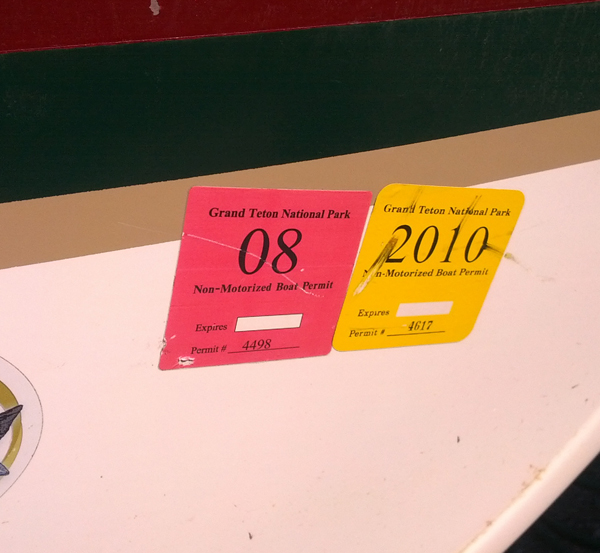 Those are boat permits to float the Snake River through Grand Teton National Park. Over those two trips we floated most of the river through Jackson Hole, Wyoming. I'll always remember our daughter, Willow, being a toddler in the nose of the boat watching as a cow moose swam across the river in front of us.
Over the years this boat has been in just about every wet spot in East Tennessee with trout or smallmouth bass. Out West it's been on the Madison, Yellowstone, Bighorn, Missouri, South Fork of the Snake, Henry's Fork, Snake, Jefferson, lower Gallatin, and maybe a couple more I can't recall.
Perhaps the most telling sign of all the fishing this drift boat has seen is the front fishing position. You can literally see where every angler has ever cast from.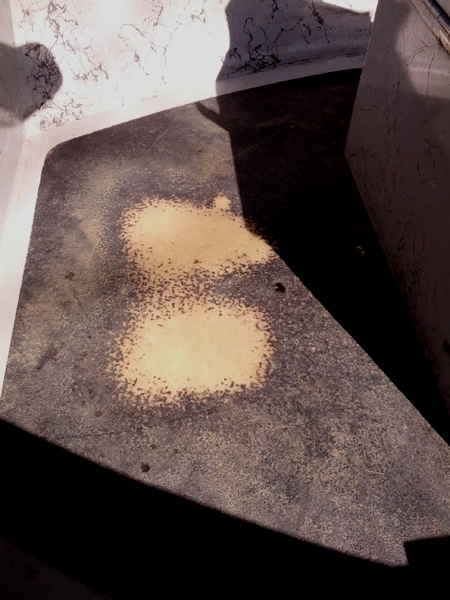 She's all hitched up and ready to head back to Idaho where they'll smooth over all the bumps we put in her and I'm sure she has many more adventures in store.