There's no doubt about it. It's the middle of summer in East Tennessee with hot weather, high humidity, and pop up thunderstorms. Fortunately the afternoon storms are keeping the heat contained, but the humidity out on the big rivers coupled with bright sunshine can be tough on a guy who rows a boat.
Things are far more pleasant on the mountain streams where temperatures are much cooler and the shade only adds to the pleasant climate. We've seen some low water in the Little River watershed, but rain over the weekend has freshened up the flow a bit. Most other streams in the region are in great shape. Rhododendron are in full bloom along most of the streams which only add to the beautiful scenery.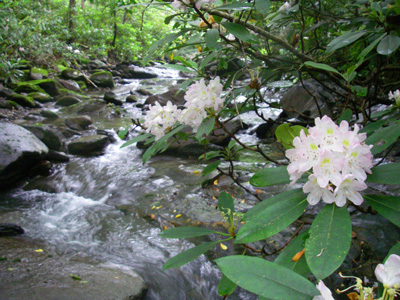 This is easily the best time of year to fish terrestrial patterns but basic fly patterns like Parachute Adams, Stimulators, and any beadhead nymph will work as long as water temperature is 65 or less. You're most likely to find this in the higher elevations, but even the larger streams around 2,000′ elevation will meet this criteria when flows are running well.
The tailwater scene continues to fish well with flows favorable for both waders and floaters, but there is a setback with regard to Holston River access. We got word that Indian Cave is no longer open for the public to use for river access. That closes off a good bit of river and we'll keep you up to date.
The Clinch is still seeing good numbers of Sulphurs and some nice fish. Of course, the it's still the Clinch and can be maddening at times. We haven't spent so much time there as on the Holston recently, but the fish seem to be inactive when the Sulphurs aren't out and are just taking it easy until the main event happens in the afternoon.
Another one of those things to expect from the Clinch…. Nymphs always seem to outperform dry flies even when the fish are up. The Sulphurs we've seen are pretty small and a #18 Beadhead Pheasant Tail Nymph is a great choice. We still can't stand it though, and will cast Comparaduns and Sparkle Duns with some success.
This has been the best year we can remember when it comes to the size of the fish in our tailwaters. The past few years of good water are really obvious when you see how many fish have carried over from previous years. The only downside is that they eat tiny flies which requires fine tippet, so there are plenty of lost fish at the end of the day.