It's that time of of the season when we're ready for a change of scenery along with some different types of fishing. I know it's hard for most people to envision, but floating the same sections of river and wading the same stretches of stream start to wear on you enough that it seems more like an office than the most beautiful place on earth. That's one of the curses of guiding. Spend enough time doing what you love in a place you love and it loses that magical quality and starts to become somewhat pedestrian. That's why we look forward to changing it up and spending our time off chasing bass and panfish and exploring waters we haven't been to in a while or finding entirely new spots.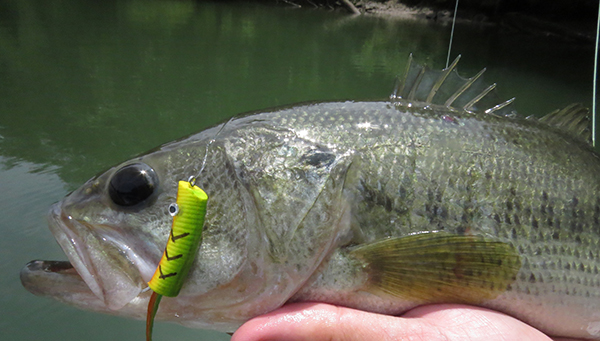 Fortunately for us when you live in East Tennessee there's no shortage of possibilities when it comes to fishing. We've spent a few days checking on our warm water rivers and have forgotten how greedy the species that live there can be even if we miss the ultra clear water we enjoy on our trout and smallmouth rivers and streams.
We're also gearing up for a late July getaway to Maine. Earlier this summer we guided a group from the National Park Foundation which had a meeting in Gatlinburg. One of the topics on their agenda is a proposal for a new national park in Maine that will be donated by private landowners. Turns out one of the family members who own the property was guided by Charity and he invited us up to spend time at their camp on a brook trout river near Mount Katahdin at the northern terminus of the Appalachian Trail. We're getting excited about that along with the chance to fish large waters filled with native brookies. Large brook trout water here in East Tennessee ranks as a boulder filled stream but we'll be canoeing at least one river so it promises to be a big adventure for us.
Getting back to business here in East Tennessee, not much has changed with regard to summer fishing. Flows on the tailwaters are still pretty consistent. The Clinch is still best for waders but is floatable in the afternoons once Norris Dam fires up a generator. Cold water is still coming out of Cherokee Dam and the fish are very happy. Every year we cross our fingers that the cold water will last and that's been the case for the past five years or so.
Hatches are nearly played out on both of these rivers although there are bursts of activity. Sulphurs are still showing up in the afternoon on the Clinch and caddis are pretty sporadic throughout the day on the Holston. The old reliable #18-20 beadhead selections of Pheasant Tails and Zebra Midges are still the best way to go. Now that it's the middle of summer you'll do better with the smaller sizes.
Streams in the Smokies are generally running on the low side, but that's day to day and varies dramatically from one stream to the next. Little River has been very low all summer but just a few miles as the crow flies to the south you'll find find Abrams Creek and Tellico River river running anywhere from average to high for the summer. The pop up thunderstorms are pretty random but account for most of the water in the streams this time of year.
Norris and Cherokee reservoirs are still very low but this means we're probably looking at an excellent fall season on the Clinch with flows that should be ideal. Fall can be unreliable from one year to the next when it comes to getting good flows on our local tailwaters but this year looks like it will be a good one!