The past few weeks have been a blur. There has been tons of guiding followed by a fishing trip up to Maine, and then home to more guiding and the start of the school year for the kids. August is generally a time when we do some guiding but the volume is much less than what we see March thru June and the busy autumn months. Plenty has happened on and off the water so we'll try to get you caught up on all of it.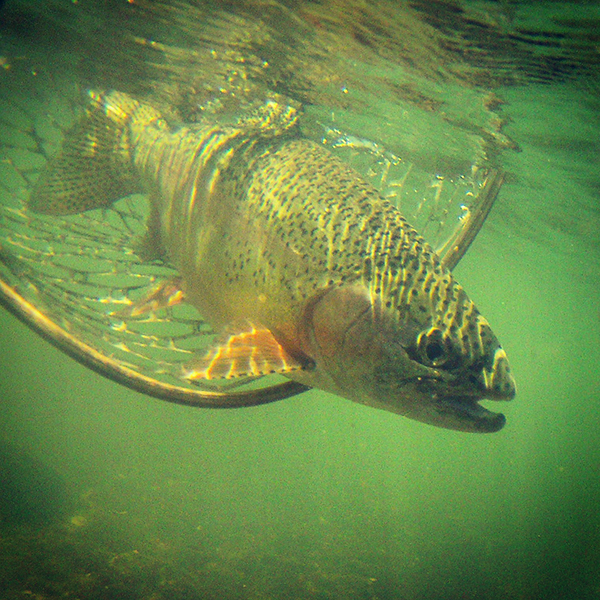 Relatively low water levels on Norris and Cherokee Lakes has meant that river flows below the dams were unusually consistent all the way through July. Things typically start to get a bit uncertain in early June but this summer has been great with flows that kept the bugs and trout happy. Flows have been bumped up this week on the Holston and it looks like that may be the new normal for a few weeks. It looks like TVA is starting to lower South Holston reservoir as well as Watauga Lake and all that water eventually finds its way down to the Holston.
This is a pretty normal situation that we've come to expect in late summer. Sometimes it's August when it occurs and other years it's September, but increased flows are here. Flows coming out of Cherokee Dam are unusually cool for this time of year. That's great for the trout on the upper end of the river but you can expect the smallmouth fishing to go into shock with cold water putting a damper on any popper fishing on the Holston.
The Clinch is still in good shape even if flows are a little bit variable from one day to the next. The pattern I've seen is that the fish are pretty skittish and reluctant early in the day. By the early afternoon Sulphurs are hatching and the fish start feeding much better, primarily on small nymphs. This continues as the water rises and there are pods of rising fish in reliable spots down the river. Fishing on the Clinch has been far more difficult than the Holston this season, but the quality of fish has been excellent.
Norris Lake is also pretty low for this time of year, but it doesn't have any other reservoirs upstream of it, so its flows will likely remain more predictable. (Of course, this is the perfect opportunity for TVA to throw us a curve ball. Just when we think we have their flows figured out they try to prove us wrong.)
Cooler than average weather has been a good thing for the trout in the Smokies. Little River was getting low enough for us to remember the drought in 2007. It wasn't so scary as that year, though, since afternoon thunderstorms constantly popped up all around and kept neighboring streams at good levels. It was frustrating when we could see the storm clouds and hear the thunder but didn't get the rain. That all improved by the last week of July and water was even prohibitively high in the Smokies while we were out of town.
The water is starting to get a little low again, but the weather forecast is calling for more thunderstorms in the coming days. We're also more accustomed to low water in August than July, so the current conditions are more in line with what we'd expect this month. Still, August is the time of year when a hike into the higher elevations will lead to more enthusiastic trout. It's also a great time to chase smallmouth and panfish in the lower reaches of many local waters that rarely get much pressure like Tellico River and Little River.