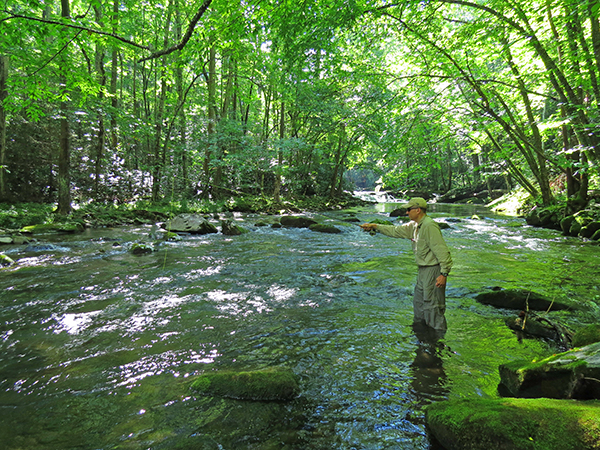 Mountain streams throughout the Smoky Mountain region are in great shape right now with good water levels and water temperatures. The photos in this post are from just a few days ago and the dry fly fishing has been pretty good in many locations.
We started to see some unsettled weather yesterday as a front has settled across the Southeast with scattered rain and thunderstorms. This type of weather is great for stream conditions but often creates more difficult fishing conditions as the insects and trout seem to sit back and wait for something more predictable.
If you're on the stream this week be flexible. Nymphing may be the best way to go. Dry flies may work but terrestrial fly patterns often aren't as effective in wet weather, working best on hot, sunny days.
On the days when the fish are rising well we've been using the Tenkara rods. They're perfect for fishing pocket water and cast the small nymphs and dry flies we use very well. The extra long rods and super light lines also make it easier to get a perfect drift and cast from further back than is often possible with fly rods.
Tailwaters
TVA is really bumping up the flows this week and that could easily pump a crimp in your plans. There are some windows for waders to get on the water on some of the big rivers, but it's really more of floater's situation. In fact, flows on the Clinch are even a little more than we'd call optimal even though anyone who can huck big streamers could be rewarded for their ambitions. These are the type of flows when the largest fish will come to big streamers.
There are still opportunities for waders to get on the Clinch, South Holston, and Watauga but you'll need to get out early and keep an eye on your watch so you don't get stranded on the wrong side of the river when the water rises.
The same goes for many of the smallmouth bass rivers in the region. The tailwater rivers below the dams will see high water (and very cold on the Holston below Cherokee). Others may have some muddy conditions due to storms in the forecast. We're thinking of the Pigeon, French Broad, Little Tennessee and Nolichucky when it comes to muddy water. Smaller rivers in mountainous areas will have the clearest water, and as always, see the least pressure as most anglers head to the mountains for trout, not bass.