We haven't seen the brutal winter weather New England has experienced this year, but it still hasn't been a stellar few months for fishing in our part of East Tennessee. Most streams in the Smokies have been frigid and our local tailwaters have had inconsistent flows. There have been times when you can go fishing, but your schedule just needs to be synched up when the stars align. This weekend was one of those times when flows were good and temperatures flirted with 60 degrees. Time to hit the river!
Water temperatures on Little River in the Smokies were still in the cellar in spite of air temperatures soaring into the 50's. We decided the best plan would be to fish a tailwater, although water temps in the Smokies have spiked well into the mid 40's today. After looking at all the options Charity and I settled on a short float on the Hiwassee. It's been a year since I've been on that river and longer than that for Charity.
We don't guide on the Hiwassee although it's just a little more than an hour from us. This river is usually a pretty good producer in the winter, and like all of our tailwaters you're likely to find a few risers in the winter. Even better, the river is almost entirely contained within the Cherokee National Forest so it's arguably the prettiest tailwater to float with mountain views in every direction.
We've been pretty starved for a really good day of fishing and both Charity and I were silently making mental calculations about whether we should make arrangements for the kids to stay with grandparents for the day or bring them along. Both of the kids saw the gear bags piling by the door and sniffed out an impending fishing trip. Their enthusiasm made it tough to leave them behind.
The day started a little bit slow once we got on the water. Charity had a number of follows and flashes on a streamer. I felt like she had that option sewn up nicely so I decided to check on how the fish would react to nymphs. Turns out we had similar results. At the end of the both of us had missed some strikes, lost some hooked fish (Charity had a short lived hook up with a carnivorous brown trout that tackled a big streamer), and both of us landed two fish with our respective methods.  That sums up the "catching" but doesn't really tell the story of how the "fishing" went.
Around 1:00 we saw a good number of Early Brown Stoneflies laying eggs on the river and some rising fish to go with that. We had a couple of Tenkara rods in the boat and it seemed like a great time to press them into service and the kids were eager to get some fishing in for themselves.
It took our 5 year old son Boone a few minutes to recall the proper casting stroke, but he hooked up a trout quicker than either Mom or Dad. And did it on a dry fly cast on a Tenkara rod no less. And his sister couldn't let him take all the credit.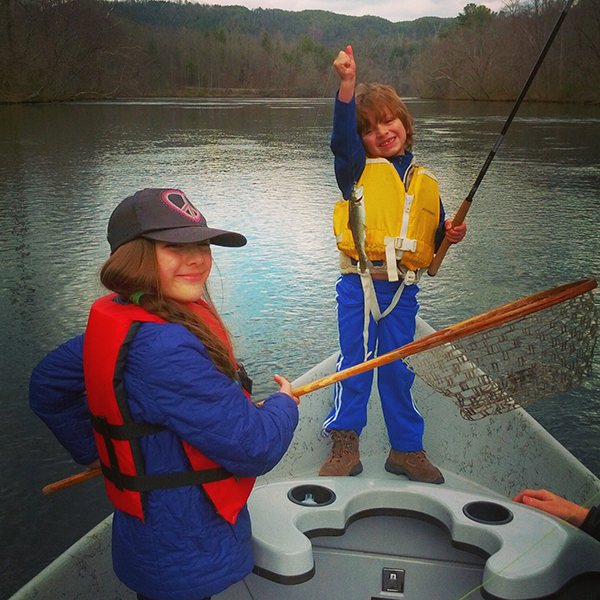 Nine year old Willow assured us all that Boone likely wouldn't have landed the five fish he hooked had she not been there to get them in the net. While Boone is a great kid and rabid fly fisher in development, it's pretty obvious his older sister has the "guide ethic". After netting fish for her brother she volunteered to take the oars so dad could get some casts in.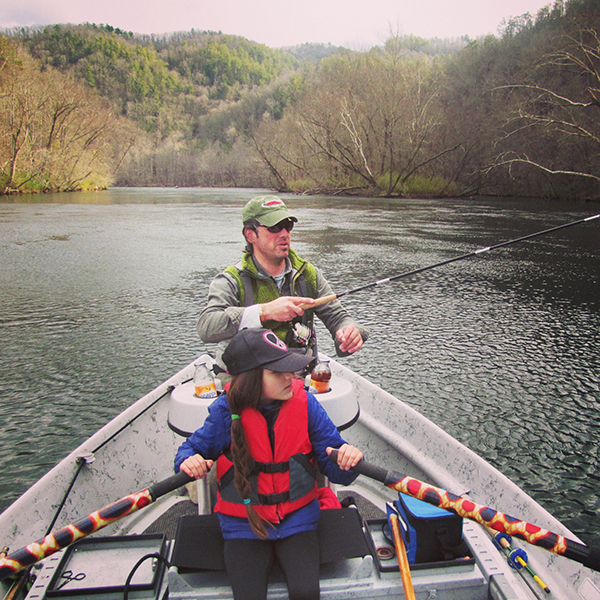 Even with Willow's guidance I couldn't replicate her brother's results. It seems that once a 5 year old catches five trout and misses at least twice that many, most of the fish are pretty well educated. And it doesn't help when the stoneflies shut it down for the day either.
Boone got to revel in the glory of having the hot hand in the boat, Willow rowed a few hundred yards of a river known for wrecking drift boats (we never approached any of those spots), and Charity and I got to spend a great time on the water with two pretty cool kids.