It's been a while since we've posted anything on the blog and it's not because there's nothing happening. In fact, it's been quite the contrary. We were guiding so much at one point we were on the water more than at home for a while. The kids have been out of school so we've been making sure to make the most of our time with them. And then there's been some software upgrades and changes that have made blogging more of a headache than usual for someone who makes their living pursuing wild animals outside in places where cell phones are reduced to a piece of glass and plastic with a glowy screen but no reception.
In short blogging hasn't been on the short list of priorities, but we usually get a breather about this time of year. We're about half way through our season but our Western guide friends are just now hitting their stride. Most of our serious anglers come in the spring and the fall but tend to avoid mid-summer when most of the hatches have played out and summer heat is at its worst.
We had a exceptionally hot June. Particularly so if you're rowing a drift boat on a wide river without shade, but the Sulphur hatch on the Clinch was the best we've ever seen. And I mean the best I've seen in over 20 years of fishing the river. At least 80% of the fish in the river were up eating on the surface and mayflies hatched by the tens of thousands. It was too much of a good thing.
It was that sort of twisted punch line the devil puts up after you've sold your soul for heavy hatches and rising fish everywhere. There were so many bugs in many cases that it was tough to get fish to eat a fake. Then figure in that so many large fish were up that many of my anglers lost the fish they hooked because of the small flies and delicate tippet required to fool fish in that situation. Be careful what you wish for everybody, but no matter what, it was still cool as hell.
TVA generation has become somewhat unpredictable on the Clinch and Holston Rivers now even as you can expect good fishing if you can hit it right.
During the hot weather we made it a point to gain some elevation when fishing in the Smokies. Water levels became dangerously low and water temperatures were pretty sketchy in the easiest to reach locations. That made brook trout a regular catch for us in June which is fine because we love them.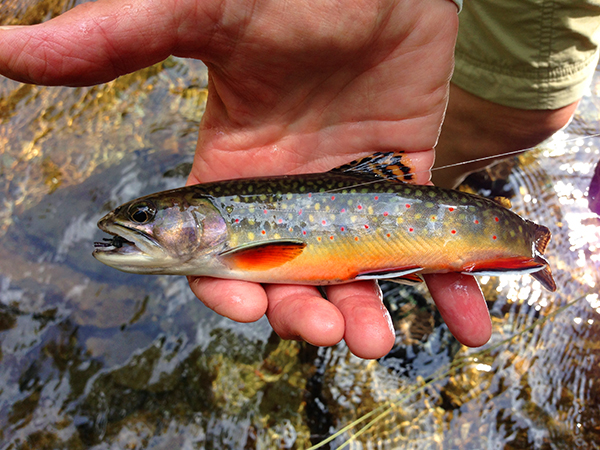 Fortunately we had a pretty wet start to July and all of our streams are in great shape, even if we're experiencing heat that's pretty normal for July. You'll still want to get on up there in elevation if you want to find active fish. Some of the rain we had even gave us cooler than average days with several days in a row in the low 70's or high 60's depending on the stream you were on.
Now that we're heading into mid-July and August you can expect those cool days to likely disappear until some time in September when we start the slide into autumn. Speaking of which it's not that far away and we're already hearing from folks who are making their fall fishing plans.