After a wet weekend here in East Tennessee we have perfect water levels for fall fly fishing in the Smoky Mountains. While points to our east and southeast received far more precipitation, the Smokies hit a sweet spot in the weather receiving three continuous day of steady but light rain. Autumn is typically the driest season of the year so several continuous days of damp weather has us set up perfectly.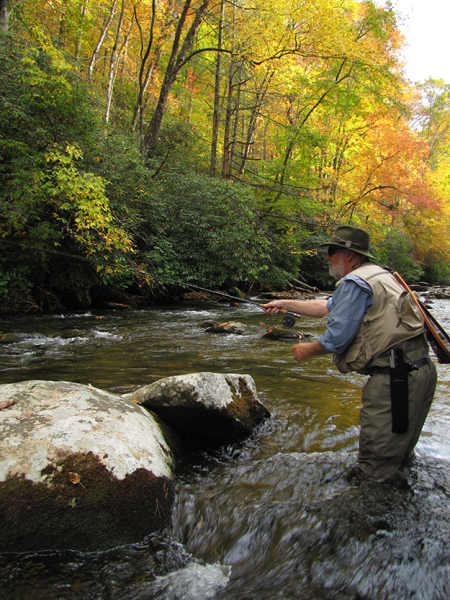 You'll want to break out your waders as overnight lows are in the 40's up along the high ridges so water temperatures are anywhere from the mid 50's to low 60's at the lowest elevations on the fringes of the national park. Hike in fishing will remain good for at least another month, but anyone who prefers the convenience of roadside fishing should find happy fish too. Swimmers and tubers are gone until next May.
Small bugs are generally the rule, but don't get to wrapped up trying to match a hatch. All the basic fly patterns should find a willing fish but keep your flies to #16 or even #18 and you may find even more lookers.
Nymphs will absolutely work, but if the fish are willing to take a dry fly… It's a personal choice, but we fear for your immortal soul if you prefer to watch a strike indicator when trout will rise to a dry.
It looks like our local tailwaters may be out of commission for the week. The Clinch was having superb flows but TVA has bumped them up this week after the wet weekend. We're hoping this doesn't last long as the Clinch can be superb if the flows are good in the fall. (And that's a big IF…)
The Holston River below Cherokee has some good flows, but smallmouth bass are a better bet than trout as water emerging from the dam is usually at its warmest in the fall. The trout are still there, just not very active. The bass a little further downstream are typically very active taking poppers so that can be a much better option from about Indian Cave all the way down to Knoxville.