Early April in East Tennessee brings the blooming of dogwood trees, an iconic Southern Appalachian spring scene. It also tends to bring a cold snap regionally known as Dogwood Winter and this year has been about as wild as we can remember after the dogwoods bloomed, although we can remember one Easter weekend a few years back that featured a hard freeze that killed every green thing around.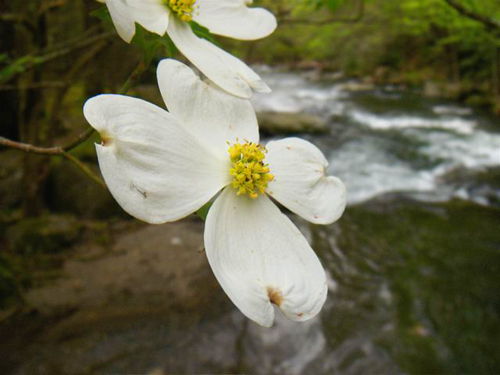 It's been a wild couple of weeks here in East Tennessee. As I write this Newfound Gap Road across the Smokies is closed due to snow and ice, but that's not really the unusual part. We've seen nearly a solid week of strong wind, and I mean STRONG wind. We're talking sustained 20-30 mph. That's all that's needed to turn a cool drift boat into a medieval torture device.
So while we've been getting into a few fish from the boat you could say it's not been the typical spring fishing we're accustomed to. Almost every spring I host Jim Gibson and either members of his family or fishing buddy Russ who arrive for some warm spring fly fishing. He's from Michigan and early April can still feature some snow so tailwater floats in East Tennessee are usually the best way for him to kick off his fishing season. This year he got a chilly reception and plenty of wind. The good news was that it was even colder back home in Michigan.
Flows on our local tailwaters have been pretty predictable lately even if the fishing has been a little on the spotty side. The Clinch has great conditions for wading even if the flows can be a little low for floats. It's still primarily a nymphing scene as we're still a few weeks from seeing good hatches on the big rivers.
On the other hand, the Smokies have fished really well in spite of the weather. There have been a couple of days with slower fishing when water temperatures plummeted back into the 40's from the high 50's but things rebounded once the fish acclimated. We've been fishing a combination of dry flies and nymphs, sometimes at the same time as a dropper rig. The dry fly fishing has generally been best in the afternoon once the sunshine gets on the water, but nymphing can be good all day long if that's what you like to do.
It surely won't be long before nice weather returns, but here's one stunning by product of the unsettled weather, an amazing evening sky over Townsend and Rich Mountain with more of the Smokies in the distance.