After answering what seems to be countless phone calls and emails we've finally gotten around to posting something about the unprecedented wildfires we've experienced here in the Smoky Mountain region. First of all, let me say that we are fine and Townsend, Tennessee has been virtually unscathed through all of this. Gatlinburg has been quite literally devastated along with portions of Pigeon Forge, Wears Valley, Jones Cove, and Cobbly Nob.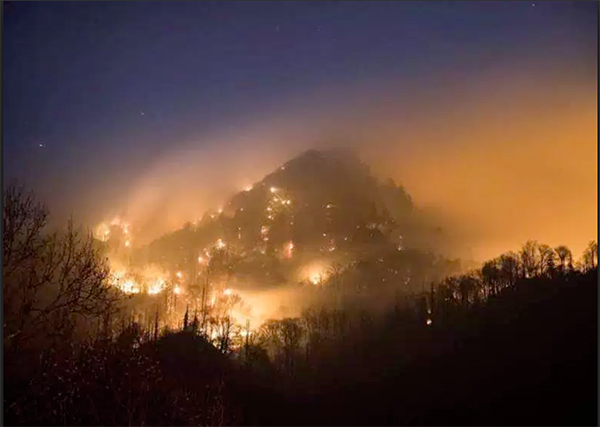 True to the nature of wildfires, some areas were completely leveled even as some structures in the midst of destruction stand seemingly unharmed. The fire that has been the focus of everyone's attention started on the peak of the Chimney Tops. This is a relatively remote location, about a two mile walk from Highway 441, also known as Newfound Gap Road inside the park. The fire smoldered for a number of days and was a tough one to put out because of exceptionally steep terrain and distance from the road. At the same time it wasn't likely seen as much of a threat for the same reasons. Nothing but wild country surrounded this small fire for miles in every direction and it was not a direct threat to any structures.
The Smokies have been in a deep drought for several months and everyone was happy to see a strong front bringing rain in our forecast, but strong winds ahead of the rain brought disaster. On Monday November 28th winds starting picking up around the late morning and fanned the flames bringing the relatively small fire on the Chimneys to 500 acres in a short space of time. Smoke became so thick in Gatlinburg it became difficult to breathe and visibility was less than one city block. Aircraft couldn't be employed to dowse the flames by aerial means because it was far to hazardous to fly at that altitude in the mountains as winds grew steadily to over 50 mph with gusts recorded as high as 87 mph.
The high winds blew embers to a variety of new locations and started fires near Twin Creeks and Cherokee Orchard inside the park just outside of Gatlinburg. At 5:00 PM a press release from the Gatlinburg fire department said that the fire was actively being fought but no structures in Gatlinburg were involved. Over the next hour homes in Gatlinburg started to catch fire and by 7:00 PM the situation had become so dire that city officials called for a mandatory evacuation of the city.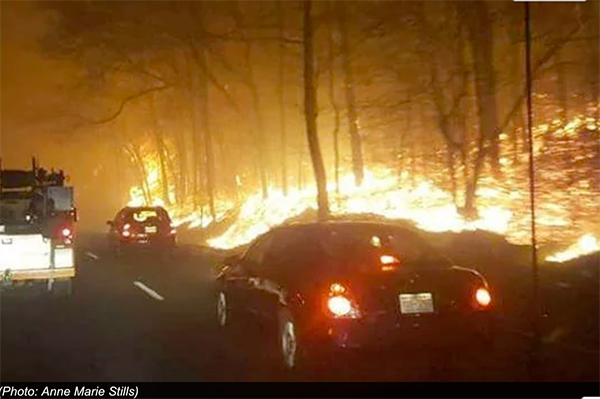 High winds were not only spreading the fire, but blowing down numerous trees which in turn knocked down some power lines which were believed to start more fires. Even worse, flaming trees fell across roads in many locations blocking them. Park personnel, local law enforcement, and fire fighters all did a tremendous job of clearing routes and evacuating the city in an orderly fashion under circumstances that can only be described as apocalyptic. 14,000 people were evacuated and approximately 2,000 spent that night in Red Cross shelters.
While all correspondences we've gotten have been most concerned with our welfare, a few have gone on to inquire about the state of the park and even fish. There were absolutely sections that burned, but it doesn't seem like the park was affected so much as you might think. Most of what burned inside the park was leaf litter. Live decidous trees have singed bark but were likely not killed. We're particularly anxious to get a look at the slopes above the West Prong of the Little Pigeon River where there were literally thousands of dead hemlock trees. It would seem that those would have burned, been blown over in the high winds, or both.
One area that didn't burn was Elkmont and from what we've heard, most of Greenbrier escaped damage as well. Sections of the Roaring Fork Motor Trail burned, but it also seems that a good portion of it didn't burn. You can use the interactive map below to see what areas were burned and which areas escaped harm.
The outpouring of support for those who have lost homes and businesses has been nothing short  of phenomenal. We'd love to list all the ways you can make donations or help but there are far too many to list. Instead we're posting this link to one of our local news outlets with a list.
Here's another list of links we've received from trusted sources: