We're officially into summer now and happy to report fishing is looking good almost everywhere you look. A wet spring season made fishing pretty tricky, especially on our tailwater rivers which ran high for a pretty long time. In fact, we lost more float days due to high water this season than we've ever lost previous. Fortunately this has meant excellent conditions in the Smokies and and flows have started to become reasonable on the tailwaters.
As always, dry fly fishing is strong in the Smokies, especially if you hike back into the backcountry. We've been fortunate to have some cool mornings so we've often been starting the day with a dry dropper rig; typically a #14-16 Stimulator or Mr. Brownstone with a #16-18 Beadhead Pheasant Tail, Zelon Nymph, or Copper John about 18″-24″ underneath. Other basic dry flies like Parachute Adams and the Smoky Mountain classic Thunderhead get it done most of the time and are so much fun to fish.
The tailwaters most local to our location, the Clinch and Holston Rivers, have been tough to predict for the last couple of months due to a string of storms that dropped heavy rain and kept TVA hopping with the flood control mission. Sometimes that meant holding water back which allowed for great fishing, but the more they held back the more they'd release later. Both the Clinch and Holston were fishing great before the high flows happened, so it was a tough pill to swallow, but we've had some great floats recently.
Wade fishermen are still having a tough time finding good flows but conditions have been pretty good for floating. We haven't seen very many Sulphurs which has been a little disappointing, but nymph fishing has been pretty consistent. There's also been some great fishing with streamers when it's been overcast. Last week I guided two excellent days of streamer fishing. The first day with Jim saw numerous fish attacking the streamer with the best being a 19″ rainbow. Day two of casting meat on the Clinch with Jim didn't yield the numbers of fish, but this 23″ brown trout has him in contention for largest fish in the boat for the season.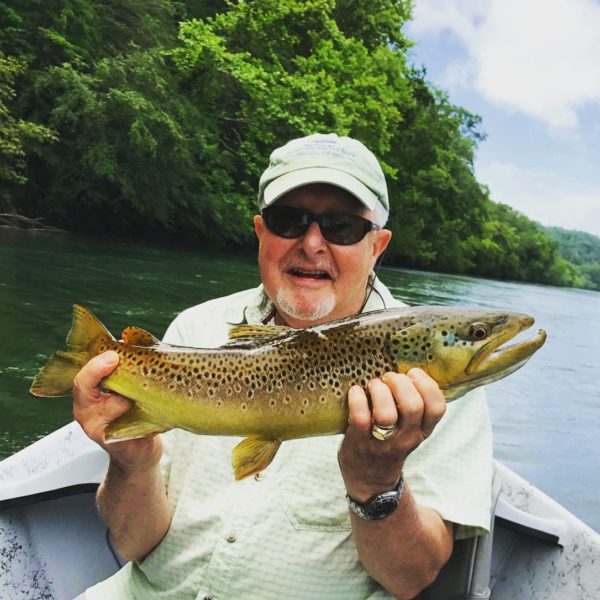 We've had some great fishing on the Holston as well, but are expecting some more high flows unless we come into a major dry spell. Cherokee Lake is well above normal and TVA will likely move that water on down the system. This also has ominous consequences as all the generation to keep the lake from overflowing has depleted a good chunk of the cold water in the bottom of the lake. Water temps have been in the 60's, but we haven't seen any low flows in a heat wave yet, so keep your fingers crossed. This could get ugly.
There's also something to watch over at Norris Dam. Right now it looks like both generators are out and TVA is running water into the Clinch via the sluice gates. That's not a problem for the fish, but the system that TVA uses to notify the public about flows references the number of generators in use. Right now that shows zero generators, but there is often the equivalent of 1 or 2 generators worth of water flowing down the river. Be sure to check the website or app and look at current flows while being leery of the generation schedule.
In the meantime, we're guiding as much as we can while still getting out and getting our kids on the water and in the woods whenever possible. We still have plenty of availability for the summer so give us a shout and we'll put you on the fish and up your game on the water. If we're not around we're either on the water or up high in the mountains where it's cool.