And little wonder; East Tennessee provides some of the most diverse fly fishing opportunities in the United States. The Great Smoky Mountains National Park is a fly fisher's wonderland, and it's literally minutes from our door in Townsend, Tennessee.
In addition, we guide anglers on East Tennessee's tailwaters, rivers and lakes, where bigger trout and smallmouth bass are often found. Our specialty is catching trout on a fly, and we welcome anglers of all skill levels. Regardless of your skill level, we can tailor a day of fly fishing for you.
The Smokies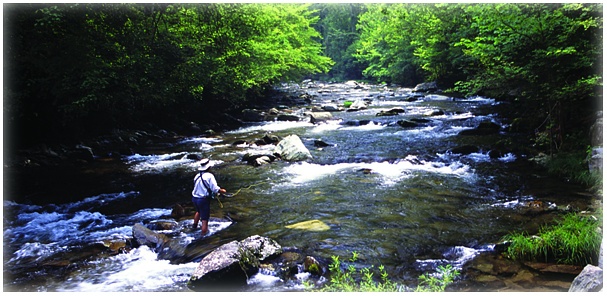 The Great Smoky Mountains National Park is one of the largest tracts of wild country in the eastern United States. Nearly 800 miles of cold, clean trout streams drain the Smokies' green slopes.
Rainbow trout are common throughout the park and the larger brown trout are present in many watersheds. Native brook trout–holdovers from the ice age–still swim in the highest elevation streams. These are wild trout streams and the fish are decorated with brilliant colors.
Larger Waters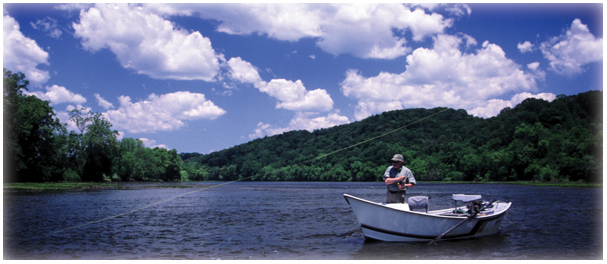 Larger trout and big rivers are only a short distance from our base in Townsend, Tennessee. The Holston, Clinch, and Tuckaseegee Rivers as well as Calderwood Lake provide superb habitat and offer you a shot at good numbers of larger trout. The Holston, Pigeon, and Little Rivers plus Chilhowee Lake provide excellent fly fishing for smallmouth bass.
We fish these rivers and lakes from our Hyde drift boat which puts anglers over bigger fish, yet provides a stable platform for up to two casters.
Ian & Charity Rutter have produced numerous articles and books and are sought-after speakers.
Ian wrote Great Smoky Mountains Angler's Companion and Tennessee Trout Waters: A Blue Ribbon Guide, the most comprehensive fly fishing guides to the Smokies and Tennessee.
Rise Rings & Rhododendron: Fly Fishing the Streams & Tailwaters of Southern Appalachia was a joint effort between Ian & Charity. This book of essays and photography showcases their favorite water in the Southeast. Ian & Charity have also helped to produce a pair of DVD's, Fly Fishing Eastern Freestone Streams.
Together Ian & Charity started a series of pocket books titled Advice From the Guides. The first two installments are Fly Fishing with Streamers and Fly Fishing for Brook Trout in Great Smoky Mountains National Park .
In addition to guiding in the Smokies, Ian & Charity have hosted fly fishing trips to destinations including Montana, Idaho, and Belize.