This is that time of year when we've been on Smoky Mountain trout streams and several of Tennessee's tailwaters more than we can remember. It's always about now when we start to fish new places for some variety and smallmouth bass are a fun way to still go fishing while doing something a little bit out of the ordinary.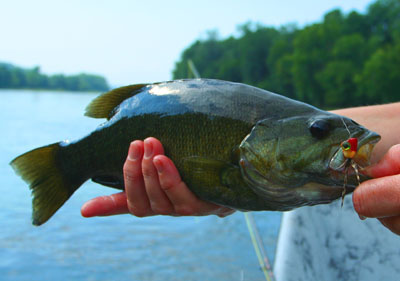 Explosive surface strikes, scenic water, and a drift boat. What more could you want?
Charity, Tim, and I have been exceptionally busy guiding this spring and summer and have fished very little together. Several weeks ago we marked a day off the calendar to fish together. We floated the Pigeon River for smallies a couple of years ago and it's been high on the list of places where we've intended to return. The Pigeon has several great things going for it. First of all it's a top fishery for smallmouth bass as well as sunfish, white bass, and the occasional largemouth. Next, and perhaps most important, the scenery is top notch. The river's pools are separated by long riffles, ledges, and chutes. It's a perfect place to drop the drift boat and explore new water.
The day started with some mixed weather. We've been in quite a drought, but we saw periods of heavy rain, sun, clouds, and wind. Tim tied on a big Woolly Bugger caught a decent smallie and a white bass almost right off the bat. Charity fished a similar fly pattern and saw some action, but no hook ups for a while. Every turn I had form the casting deck went pretty slow. It seemed that Tim's initial surge of action near the boat ramp was the big moment. After lunch we switched to poppers and saw a decided increase in the action. Most of the strikes came from bluegills, but smallies started taking swipes as well. Tim made the declaration that he had the perfect popper, one that really chugged and made a racket. It did gurgle like a champ and every chug made you wince in anticipation. Maybe it was Tim's sixth cast (maybe sooner) with that popper the riffles erupted with a big smallie. The fish jumped a number of times and ran far enough down the river that we had to drift over a ledge to follow.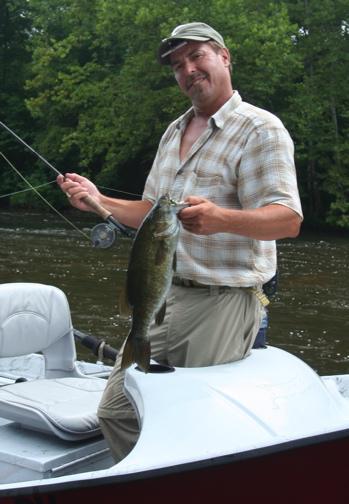 The best fish of the day. Note the smug grin.
We continued our float and Tim and Charity seemed to get most of the action. While I missed an explosive strike on the edge of some rapids, I seemed to keep the bluegill interested with my popper. We drifted the Pigeon all the way to its confluence with the French Broad. Tim and I fished with less enthusiasm at this point as the interspersed rain showers grew with intensity, but Charity continued to fish hard. Eventually the sky cleared to a bright blue and fish seemed to break all around us.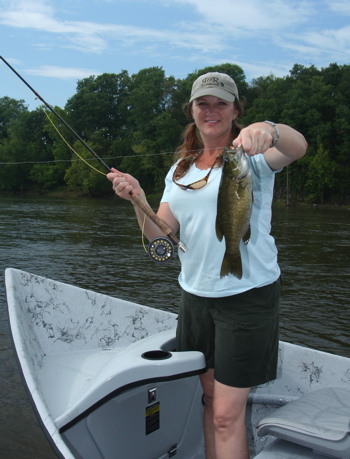 Charity with French Broad Smallie. Persistence pays!