We've had a fair amount of wet weather in the past month and most of the streams are beginning to not only look good, but actually have the flow that they should for this time of year. We've got a wet week on tap with quite a bit of snow on the mountain tops so we're expecting a dramatic increase in stream flows over the next five days or so.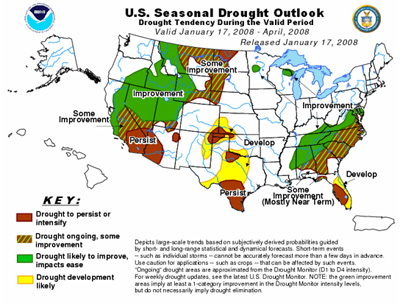 I check the long range weather forecasts on the NOAA site everyday and thought I'd post a shot of last week's drought forecast map. Most of the Southeast is set to improve with East Tennessee and Southern Appalachia to have some of the most dramatic improvement.
We've been in touch with fisheries biologists at Great Smoky Mountains National Park and have some interesting figures on fish populations. The news is generally good with most of the trout populations in the park relatively unaffected. The lower elevation streams below 2000′ took the hardest hit. Fortunately, most of the trout water in the park is higher than that. Brown trout populations don't seem much worse for the wear. Rainbow populations took it hard below 2000′, but these stretches of river and stream are often marginal for rainbows during most summer seasons. Brook trout don't seem to have weathered the drought quite well as their populations are seemingly untouched. Most brookies are found higher than 3000′ so water temperature wasn't much of an issue. I'll cover these numbers in greater detail in our next newsletter which should come out soon.