We've had a few personal days to do some fly fishing here in the Smoky Mountains of Tennessee and North Carolina. First, I took a hike well upstream of Elkmont to fish upper Little River well above Fish Camp Prong. This is the area where Meigs Post Prong enters the stream and brook trout start to show up reliably. The stream was closed here until a few years back when all the brook trout streams were opened. Charity and I had shocked this section of stream with park biologists and even relocated some that would become the ancestors of many of the fish in Sams Creek upstream of Tremont.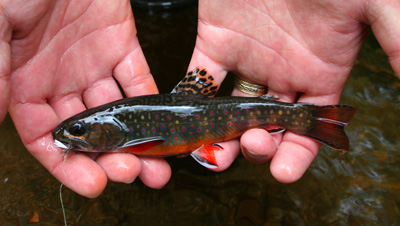 How I spent my summer….
The hike up Little River is easy as far as trails in the Smokies go. The toughest thing is walking past all the good looking water. I've spent countless days of my life on this water so it's easier for me than most, but I still can't help but pause and watch for trout in a few spots while recalling rises, hook ups, and missed fish from memory.
Little River is still primarily rainbows around the confluence of Meigs Post, but there are enough brookies to keep it interesting plus the stream is still quite large. Meigs Post Prong is virtually unheard of, probably because of its long closure and the fact that it is at least 6 miles from the trailhead keep only the most fanatical from getting that far up the river. It's a great stream that's big enough for some easy fishing, yet has just enough brush to keep you from getting careless.
Charity and I took what could probably best be called our annual trip to Cataloochee Valley. It's about as far from Townsend as you can get while still driving to a stream in the national park. It's a beautiful valley that the park keeps as it was during the early 1900's. A number of original homes and barns are maintained as historic sites. It's relative isolation continues to keep it completely overshadowed by a similar valley in the Smokies, Cades Cove.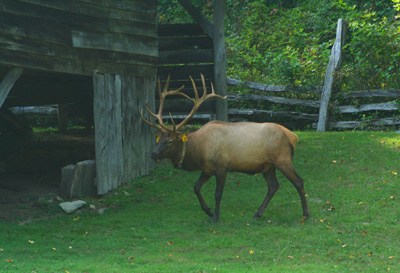 One of Cataloochee's most popular residents
Cataloochee Creek is hard to pass up. It's a bit smaller than Little River, our home water, but it's beautiful water with an even distribution of pools, riffles, and pockets. Staying on our summer 2008 theme we hiked a short distance upstream on a few tributaries for brook trout.
Streams in this section of the park have been experiencing some interesting things. First of all, the drought has brought these streams to record lows. However, recent rains have provided some relief. The juiciest morsel for fly fishers is that brookies have started to turn up in some odd places. Well… That's not really true in a historic sense considering brook trout were the original species and had no competition before the introduction of rainbows and browns. Several really nice brook trout measuring over 10″ have been caught in the main stem of Cataloochee this summer.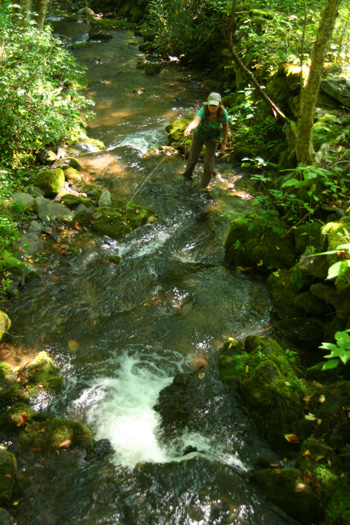 Little Cataloochee Creek
A couple of restorations on upstream tributaries may have helped. There's also the possibility that the drought has actually helped brook trout. Last year there was a slight increase in brook trout populations while rainbow populations took it on the chin. Now you've got something to discuss and argue back and forth about, but its doubtful we'll never know. Since it's all speculative anyway, I'll go out on a limb and suggest that perhaps elk dung is toxic to rainbows but not brookies.
Lynn Camp Prong will be closed to fishing on September 6 and probably will be for the next 5 years, perhaps longer. The stream, located in the Tremont section of Great Smoky Mountains National Park, will be treated by fisheries biologists later this month to remover rainbow trout. Native brook trout will be restored to the stream. The stream will be closed until brook trout populations have stabilized. If you have a chance you should go ahead and keep your limit of rainbow trout without any lingering feelings of guilt. The fish will be killed by the treatment.
It's a bittersweet moment. No one alive can remember the stream as anything but a fine rainbow trout stream. However, it will be a superb brook trout stream once it's restored to it's natural state. Brookies have lost about 70% of their historic range in the Smokies and this will be an accessible piece of water that is larger than many other creeks with specks.