Rain from the remnants of Hurricane Ike brought some beneficial rain to the Smoky Mountains without creating any flooding. A touch of fall is in the air now that overnight temperatures are sinking into the 50's and afternoon temperatures are in the 70's in the mountains.
Dry fly fishing is good right now. The basic Parachute Adams should work well, but downsize your fly if you get a few refusals. A #18 BWO will be the ticket in the weeks to come. Beetles and ant patterns should produce for a few more weeks. Switch to a #16 Beadhead Pheasant Tail or Hare's Ear Nymph if you can't get the fish to look up. In fact, this is a good way to go if you're out early in the morning.
 Report from the Road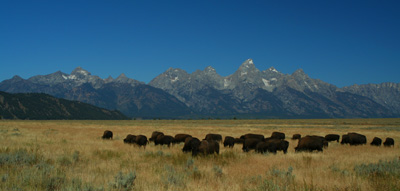 Wyoming's state motto is no lie: "Like no place on Earth" Charity and I have been on the road. We're now at the Slide Inn on the Madison River in Montana, but have come via Jackson Hole, Wyoming and Yellowstone National Park. Of course we've fished along the way.
We set up camp at Gros Ventre (pronounced "Grow Vaunt") Campground in Grand Teton National Park. The Gros Ventre River was about 150′ from our tent and the hoppers were jumping all over as we got our camp established. The hopper bite was still on in Jackson Hole and we did very well on the Gros Ventre.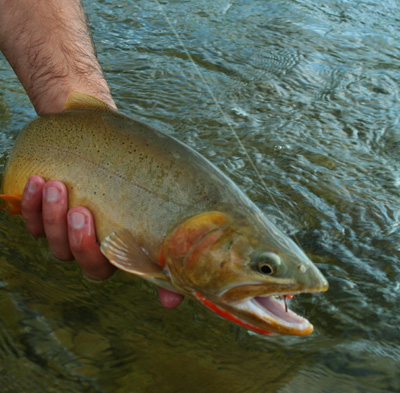 It's always been a goal of ours to float the Snake River through Jackson Hole. The scenery is incredible and it's one of the last best big rivers with native populations of cutthroat trout. The float was everything we hoped it would be. The Tetons towered over us all day long and the cutties rose to hoppers along the banks. Rowing the Snake was an experience we'll never forget!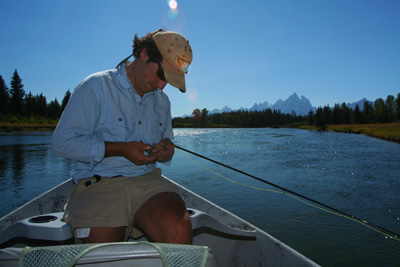 Changing to a less chewed up hopper pattern on the Snake River
Just getting to the river anywhere in Jackson Hole puts you inside a postcard. This is one of those places that I've often said Stevie Wonder could take a great photo.
Our motto is "It's all about the experience!" This is so true of our western fishing trips. We have a great time staying in the cabins at Slide Inn, but camping is a big part of it for us. It's been 3 years since we've camped in Yellowstone country and we're glad we did it again. Yes, it's cold in the mornings. There was frost on the tent, but you can't trade the experience of brewing a pot of coffee on a camp stove while a bull moose saunters by.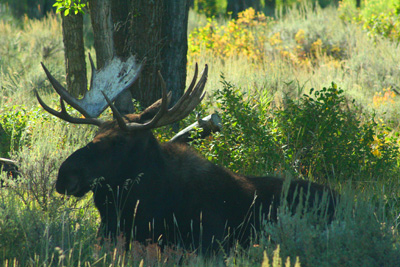 A bull moose behind our tent
From Jackson Hole we turned our sites toward Yellowstone Park and the Yellowstone River. I'll post that in a day or so.