We received more than 4″ of rain over the last 2-3 days. The weather has been pretty nasty even before that and we had other things going on when it wasn't. We took a quick trip up the river after lunch yesterday to take a look around and get some fresh air.
I knew the river was up and hoped to be able to fish a streamer in at least one or two spots. That wasn't going to happen. The river was high in Townsend, but we saw another surge. There shouldn't be any more leaves in the river bed. Not only was the river soupy with leaves, there were numerous logs and big tree limbs in the current.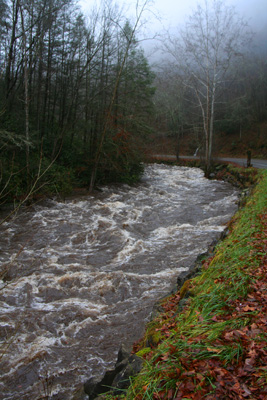 This is about 1 mile upstream of Metcalf Bottoms on Little River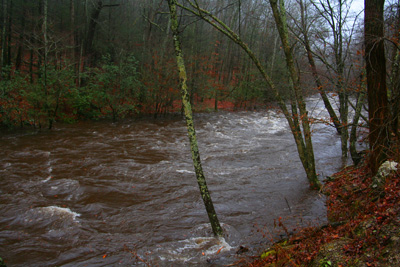 This is usually a big, glassy pool 
Don't be alarmed. The water has already fallen quite a bit although it's still a bit high for fishing today. I'm guessing conditions will be on the high side by the weekend, but fishable. The best fishing will be on smaller streams in the Smokies. Unless you're real familiar with the big streams you might give them a couple of days to fall out. Good streams I'm thinking about around here would be West Prong Little River, Jakes Creek, Forge Creek, and Cosby Creek. There are plenty of others, though. Don't be upset about this high water. We're thrilled and hope this is the beginning of a trend out of the drought.
Looks like tailwater flows will be good for wading this weekend. You might need to dodge some generation for a few hours depending on which river you hit, but with sunny weather and temps in the 50's you should get out while the getting is good!