The fly fishing is starting to get rolling here in East Tennessee and the Smoky Mountains. We're guiding anglers on the rivers and streams and we've put some miles on the wading boots and drift boat this week. The weather has been sketchy, but those who have been able to tolerate it  have been into some fish.
The Smokies
The bugs are really hatching now and the fishing are rising to meet them. I saw the first really good hatch of Quill Gordons on Little River yesterday. It was obviously one of the first days of strong hatches because there were no birds perched along the stream to grab mayflies the trout missed. We usually see crested fly catchers and cedar waxwings fluttering over the streams or even waiting in anticipation.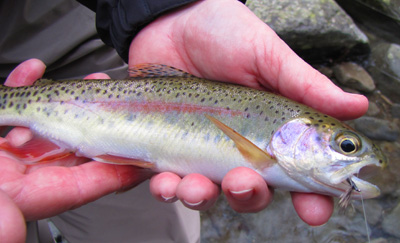 Ray and Connie Jones both caught their first trout on dry flies on Little River yesterday. They have caught fish on nymphs and streamers, but never on dry flies until yesterday. After seeing fish rise to Quill Gordons for better than an hour I thought Ray might just explode from the sheer excitement. I think I've converted another one to dry fly fishing!
Tailwaters
I floated the Holston last Sunday and the Clinch on Monday. The weather was wet and cold on the Holston, but a thick midge hatch kept the fish near the surface. In spite of this we brought the streamers out on both rivers.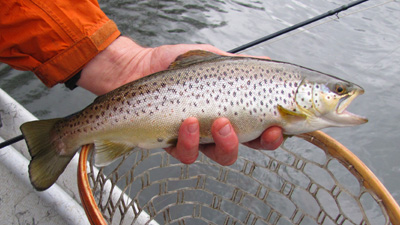 This brown ate a Woolly Bugger but we brought out the big streamers late in the day. Tim Masincupp hooked and lost a true beast, but small midge pupa patterns won the prize for consistency. Cherokee Dam hasn't had the best generation schedule this week, but expect that to improve soon.
Mike Sikes caught several very nice rainbows on the Clinch. This river fished very good last year and I think I'm prepared to say the Clinch is back! The average size of fish is excellent right now and all are very strong.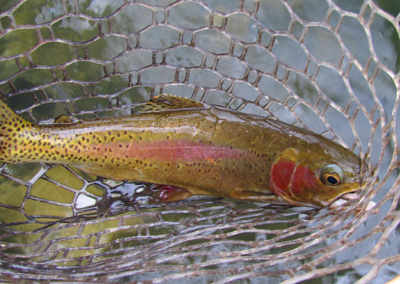 The best way to describe the fishing on the Clinch was "streaky". There were long periods of non-activity throughout the day that were broken up by periods of several good hook ups. It seemed like the unsettled weather had an effect on the midge hatch. I'm sure it was no coincidence that the fish were the most active when midges were also the most active.