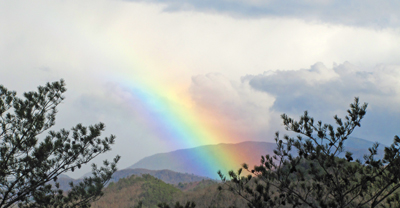 Fly fishers around East Tennessee and the Smoky Mountain region are experiencing different conditions depending on where they happen to be. Sporadic thunderstorms have caused a variety of water levels across the Smokies and generation schedules on TVA tailwaters differ from one river to another.
Right now we're seeing water levels in the Little River system that are just about average for the date with the occasional overnight surge from an afternoon thunderstorm.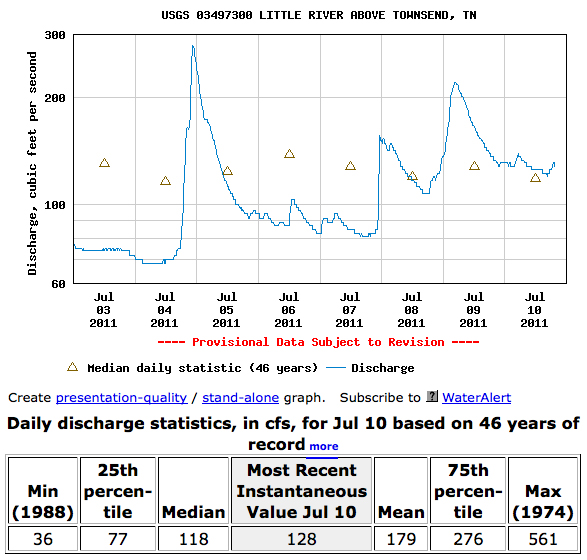 Water levels on the Oconaluftee system have been consistently higher but well within means. In fact, these are excellent water levels and make for great water temperatures during the hot summer months.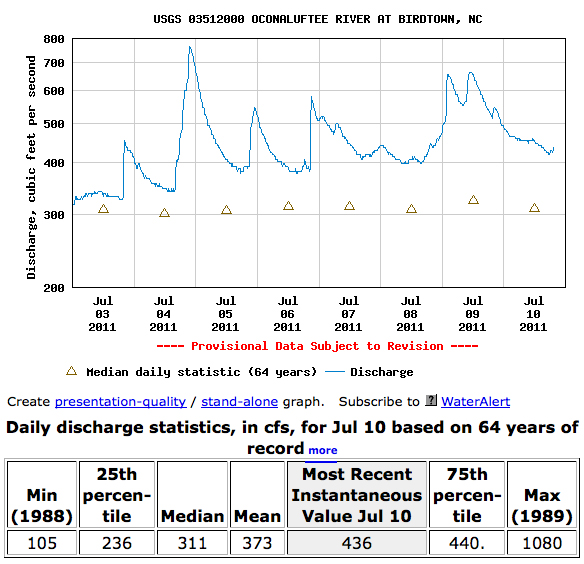 Conditions are similar in Cataloochee Valley where the combination of elevation and above average water levels indicate excellent mid-summer water temperatures. Reliable reports indicate that brook trout populations have continued to increase throughout the valley. Expect to find them even low on the stream in impressive numbers. In fact, this is currently the largest, most accessible water in the Smokies where you can catch native brookies.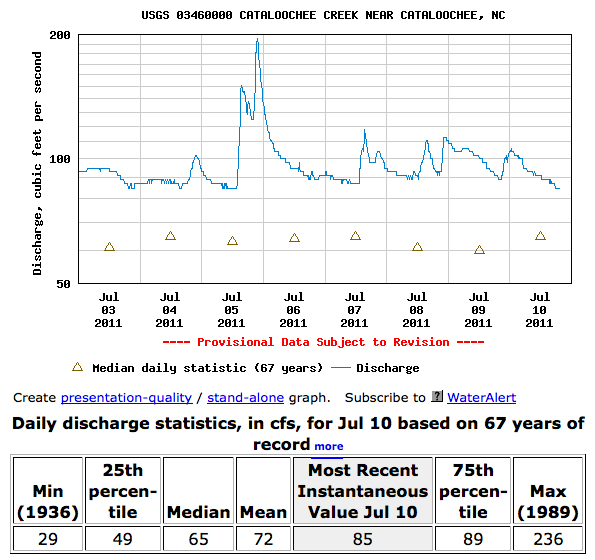 On the other end of the spectrum, water levels in the Tellico basin south of the Smokies are below normal. For the best fishing in the Tellico region look toward Sycamore Creek, upper Bald River, and the upper reaches of North River.
Tailwaters
Conditions on our local tailwaters have continued to hold up as reservoir levels are slowly dropping. This means that TVA doesn't need to discharge as much water from the dams and the rivers are remaining fishable. This is particularly true of the Clinch. We were pretty nervous coming in July as the Clinch continued to run high, but we're seeing some great water levels right now. Wade low on the river early in the morning before the river rises or employ a drift boat as we're seeing flows that are perfect for drifting.
The Holston below Cherokee Dam is holding up quite well, but the best hatches are long behind us. Some fish will continue to rise to caddis patterns, but midge patterns and small beadhead nymphs are the reliable route to hooking fish.
South Holston Dam continues to see repairs on turbines so a continuous discharge that favors wading is still in effect. We're hearing some great things from the South Holston but haven't been able to find the time to get there ourselves. Expect Sulphurs and come prepared with nymphs and dry flies to that effect.
The Watauga is also fishing really well right now. The lower river has more consistent conditions as the water rises mid-day closer to Wilbur Dam.
The Hiwassee is also fishing really well this year with excellent flows keeping water temperatures right where they belong. Unfortunately this doesn't give waders much water to fish since higher flows generally limit wading.
Smallmouth Bass
True to the nature of this post, conditions on different smallmouth bass rivers and streams are wildly variable right now. The biggest factor is the pop up thunderstorms we've seen across the Smoky Mountain region. These can lead to muddy water in many cases. This is particularly true of the French Broad, Nolichucky, and Pigeon Rivers. All of these rivers have large watersheds and one or two tributaries that come in muddy can have detrimental effects for many miles downstream.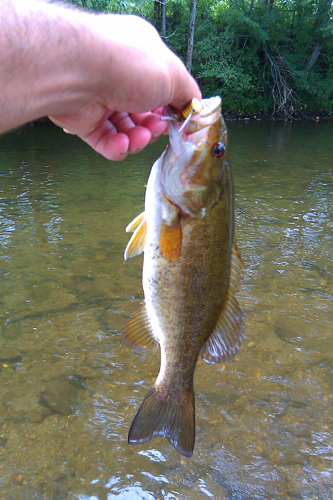 Right now is the height of popper season and we're using them from mountain streams to big rivers like the Holston. Large poppers will produce but we seem to do best with smaller sizes like #6 – #8. The Stealth Bomber is a pattern we've used several times over the last week with some success.