We're on the tail end of another busy guide season and starting to find some time to go fishing for ourselves. After weeks of being out on the water guiding and instructing fly fishing sometimes you start to wonder if you'd even remember how to get a good drift.
Yesterday Charity and I were able to get out on a "Guides' Day Off" and so some fishing for ourselves. Sometimes we like to go some place we haven't been in a while and get away from the same water we've guided for so long. It probably seems like a foreign concept to talk about fishing like this, but we usually like to get away from the "office".
That wasn't the case yesterday. Between the two of us we've seen a good number of big fish moving on Little River over the last couple of weeks and didn't see the point in going anywhere else.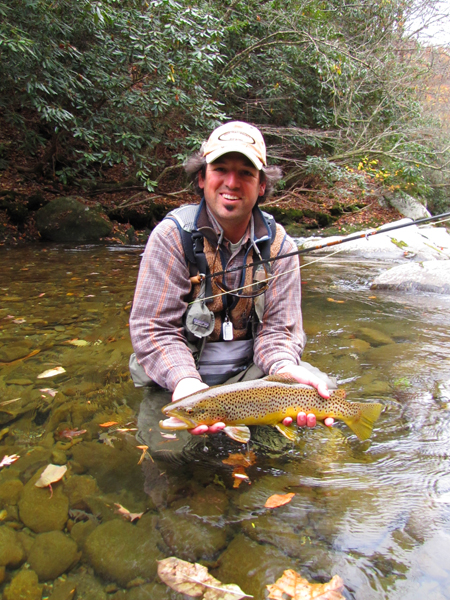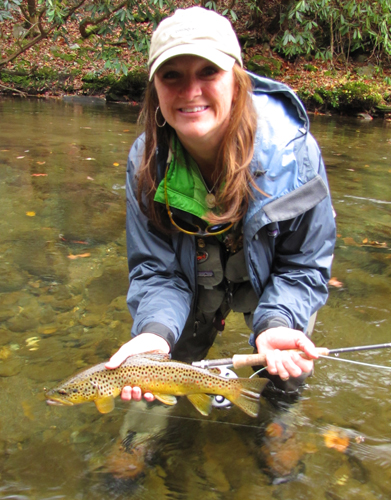 Suffice it to say, we have no regrets…
Great Smoky Mountains National Park isn't known for big fish. You can catch fish for months and have a tough time cracking the 12″ mark, but this is the time of year the big brown trout come out from under the rocks they've hidden under all year long.
The browns are starting to spawn, although we're seeing more fish out feeding than sitting on redds. This is a good thing because they're not typically eating when they spawn and that's not really the best way to catch them anyway.
Water and weather conditions look great into next week. We'll be floating the Clinch over the next few days, but expect to get back in the mountains while the great conditions persist.
Here's another look at those fish.