To say we've had a wild week as far as weather is concerned is an understatement. We've had just about everything except scorching heat here in East Tennessee and the Smokies.
Last weekend was exceptionally mild for January, but there was an interesting phenomenon in the Smokies. Since there wasn't much wind and the sun was at a low winter angle it was still bitterly cold along most streams. I talked to a friend of mine from Bryson City who drove over into Tennessee and noted that the temperature at Smokemont was 35 degrees in the afternoon but the temperature at Newfound Gap was 45 degrees. Most of the time this would be reversed but the exposure on the ridge tops actually made it warmer along the tops of the mountains than in the shaded valleys.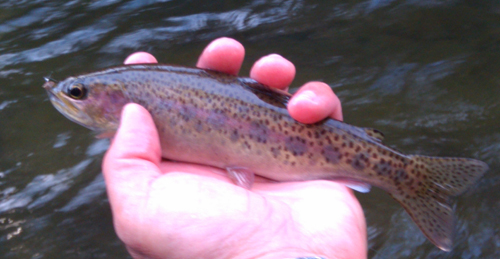 Nothing special this week, just the typical fish in the typical places
A front moved through earlier this week and brought some rain. This warmed things up nicely, but we had several thunderstorms – exceptionally rare in January! Now I'm writing this update with snow flurries falling gently. There is a light dusting of snow here in Townsend with several inches higher in the mountains depending on the location. It still looks like this will be a mild winter, though, as temperatures are forecast to be in the 40's and 50's next week.
If you're someone who likes to fish on East Tennessee's tailwaters it looks like better days are coming. Judging by flow predictions on TVA's reservoir information site there will be lower flows on area rivers. It's hard to say if this will just be for the coming weekend or a long term trend.
If you're heading over to the Clinch I wouldn't expect much on the first day with lower water, although we wouldn't discourage you from trying. River levels have been pretty high for a while and it usually takes the fish and bugs a day or two to adjust to the lower flow.