Mountain streams in East Tennessee and Western North Carolina have receded to levels considered average for early February. Many anglers consider this a tad on the high side but we've always preferred the water around this level. Remember you can always find current stream levels on our site.
We're starting to get that nervous tick that we always get this time of year. It won't be long before the spring hatches get started so we're trying to make frequent runs up the river to keep track of what's going on. Last year's mild winter had mayflies hatching a full month earlier than usual and we were already fishing to risers on this date last year.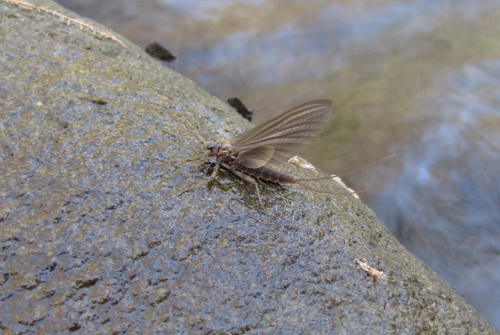 A typical spring day in the Smokies: Quill Gordon mayfly, little dun caddis, and a early brown stonefly shuck
At the moment fishing is OK, but not on fire. Water temps have been in the high 30's the past few days as snow has been melting from the higher elevations. Some warm rain is on the way though so we expect everything to pick up as a result.
Things are clearing today as a large storm system slid off to our east. That was good because we didn't need another deluge. At this point our rainfall total is around 8″ ahead of schedule for the year. That would be substantial at the end of the year but it's an incredible statistic when you consider that we're less than 6 weeks into the year!
The situation on the tailwaters is pretty bleak in the short term. Reservoir levels are where we expect to see them in late April, and that's after several weeks of TVA spilling water as fast as possible. Unfortunately it will probably be some point in April before these rivers become fishable, at least for waders. All of the rivers are exceptionally high right now and even float fishing isn't worth it. We expect this change in a few weeks on the South Holston and Hiwassee. The Watauga may come around for floaters as well.