Things have finally started to dry out here in East Tennessee and the Smoky Mountains. The following graph might only look like a bad flashback from 12th grade math, but for those of us who closely watch river and stream levels it's pretty significant. What you're looking at is the lowest water levels we've seen on Little River in months, and after weeks of marginal and too high water it's a great sight to see.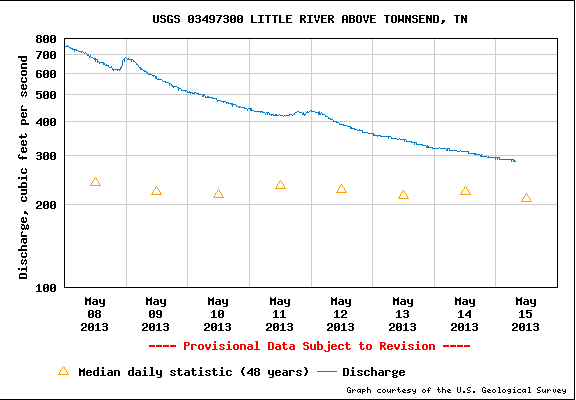 Some other streams in the region are still running a little high, but we expect those to continue to fall as well. You can always find the latest real time flows on our Stream Flows page along with an interpretation of what you're seeing.
Cool nights have kept fishing in the mornings a little on the slow side, but not entirely. Nymphing has been pretty good in the morning, although we've certainly noticed that it's been better on the smaller streams than the larger ones. By the afternoon fish are rising to a variety of dry flies.
Right now we're seeing more Light Cahills and other pale yellow mayflies hatching than anything else. Larger March Browns are still hatching as well as #14 Hendricksons. There is also a variety of stoneflies buzzing around, although there's far more than just small yellow ones or Yellow Sallies.
In short, there are a variety of fly patterns that should work for you right now. Our favorites this week have been #14 Parachute Adams and Haystack, #16 Zelon Nymph, #12 Pats' Nymph, and #14 Tellico Nymph. Stimulators in #12 and #14 have been terrific to use for the dry fly half of a dropper rig.
Tailwaters
While the tailwater scene is far from perfect, it's on its way to getting better. We're already seeing flows become negotiable for floating on the Hiwassee and South Holston. Cherokee Dam has even trimmed flows down such that wading is a possibility.
Flows are forecast to fall over the next few days on the Clinch River and Norris Lake has finally fallen below "full". Furthermore, inflows into the lake have fallen dramatically so that will naturally allow flows from the dam to fall as well.
We've missed a good number of floats lately so we're naturally looking forward to seeing flows drop on the Clinch and Holston Rivers. Even worse, these high flows have come right during the peak of the Sulphur hatch on the Clinch and caddis hatch on the Holston. We're watching the situation closely and will keep you posted.