We've had a cool, wet spring season in East Tennessee and the Smoky Mountains, but now it seems summer is upon us as we've had a pretty sunny week with warm temperatures in the 80's. The Smokies are still fishing great and we've had at least one tailwater to chase trout.
Sulphurs are showing up on the Clinch in the afternoons regularly. Some of the fish are rising well, but most are on nymphs. The large rainbow trout above (measured at 19″) was rising, but refused every dry fly we cast over him. The fish eventually took a #18 Pheasant Tail Nymph fished under a Sulphur dry fly. We could clearly see the fish eating and it's always exciting when you get to cast over a feeding fish you can see.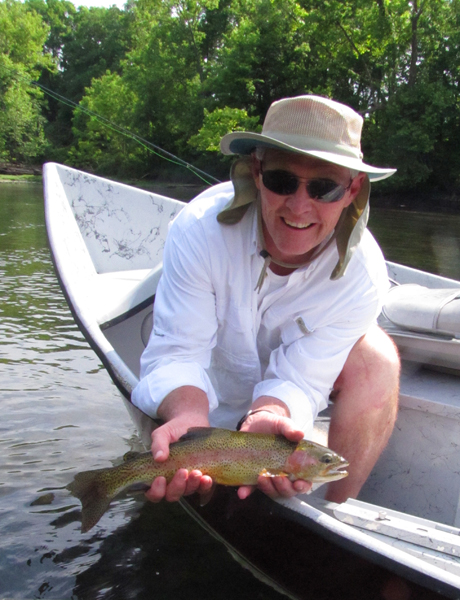 This was only Mark's second day fly fishing for trout. His first day was in the Smokies earlier in the week, so you might say he's doing pretty good.
All in all, the Clinch is being it's usual unpredictable self. Some days the fish exhibit a near suicidal tendency to eat a nymph or dry fly while other days you can see them spooking well beyond what most anglers would consider to be a long cast. Persistence is the key and making the most of every spot you find with feeding fish.
The Smokies
We're moving into a summer time pattern in the Smokies and there's not much need for "match the hatch" flies at this point. The old reliable Parachute Adams, Thunderheads, Stimulators, etc. will continue to fool fish looking feed in currents and pocket water.
Wet wading is certainly a possibility right now even as the water is a little on the cool side in the morning. Water temperatures are still cool enough that the fish are active in the lower elevations, but swimmers and tubers are beginning to show up in all the old places. Expect all the higher elevation streams to fish very well as there's plenty of cool water.