I'm sitting at my desk in Townsend waiting for more freezing weather and snow to arrive. Yesterday was relatively mild but the streams in the Smokies were essentially frozen over. Even now I can still see snow on Thunderhead Mountain and other high peaks. Still, yesterday was sunny and about 50 degrees and we weren't going to waste it.
Experience told us to head to Abrams Creek where significant flows deriving from subterranean springs keep the water relatively warm in the winter. RELATIVELY warm…. It was still icy to the touch.
If it was April we would have considered it a pretty slow day of fishing, but considering it was the only open water around after a marathon run of being stuck in the house…. Well, it was pretty damn good!
The water was freezing cold, but at least there weren't any pools completely frozen over like we saw on other streams. No chance of dry fly fishing, but fishing nymphs was just fine under the circumstances. Most of the fish were on the small side, but you tend to overlook size when you just happy to feel resistance on the line. We did catch a couple of decent fish though.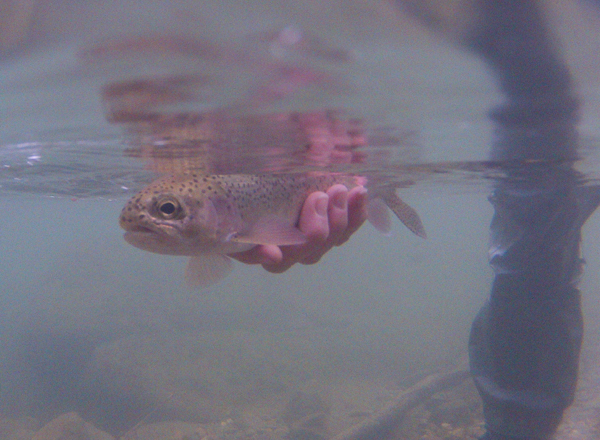 The tailwater scene is steadily improving. The Holston River has seen some negotiable flows lately. Not perfect, but workable if you're desperate. The South Holston and Watauga have really had the best flows where you can find wadeable water almost any time of day. Midges and Blue Wing Olives are to be expected so bring an assortment of small nymphs and some #18 BWO imitations.
The Clinch and Hiwassee remain reserved for those with boats and a box full of streamers. High flows continue on these rivers but we can almost surely expect some naive fish after months of time away from fishermen.
On the VERY bright side we're looking at warmer weather by the weekend. There's rain in the forecast to, but for now we're just going to focus on the positive. We're at least as ready for spring as you are!