There have been some relatively warm days over the past couple of weeks and we're supposed to be coming into at least a couple more, but don't let it fool you. It's still winter in the Smokies and I honestly can't remember the last time I didn't see some snow on the high ridges. There's more in the forecast over the next week so I don't see anything changing in the view outside of the the shapes we imagine in the clouds over them.
That means  we're still looking at cold water and sluggish trout in most locations. Abrams Creek will be the lone standout as it's milder water temperatures usually yield more active fish. There are also any number of streams that always seem to have a few greedy volunteers, but the best policy is to not expect much. That way you're either pleasantly surprised by the fishing or your savvy predictions hold true; you can't go wrong.
Our local tailwaters are still highly inconsistent with regards to flows, and that usually translates to inconsistent attitudes among the fish as well. They always seem to eat best when flows are the same over a good period of time. Right now you really have to keep you eyes on the schedules if you want to fish the Clinch or Holston, but you'll find good windows.
The Hiwassee seems to be the most consistent and the river seems to be keeping bankers hours, usually approaching wadeable flows about lunch time and rising around dark. Chances are good you'll see some risers up sipping midges or tiny BWO's.
The South Holston has had similar situation and this river is always THE place to be if you have an itch for dry fly fishing that needs to be scratched in the winter.
But now that it's February, this is what we're really waiting for….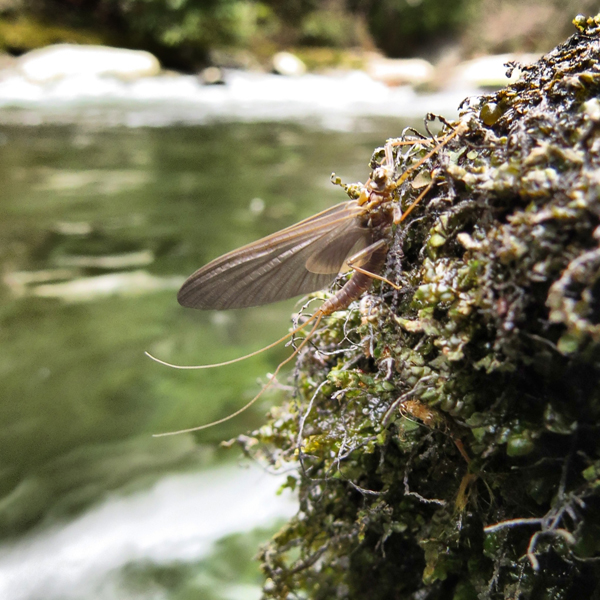 There have been several times over the years when we've seen superb hatches of Quill Gordon mayflies by the last day of February. The past few years weren't among those, but it has certainly happened whenever we get about four or five days of mild weather allowing the water to reach 50 degrees for a couple of days. Even if it doesn't happen by the end of the month it's sure to arrive no later than the middle of March.
And we're ready… (Well, almost. Still working on getting those flies in stock!)