It's definitely summer in East Tennessee and the Smokies. A quick glance at the afternoon sky and the sound of rumbling thunder will tell you that.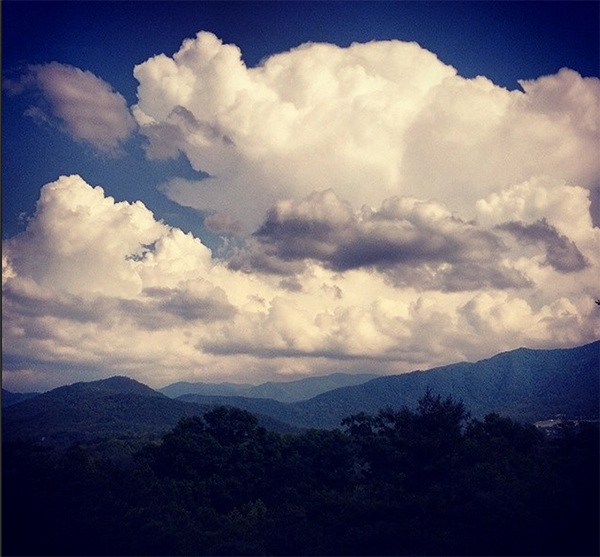 Days with unsettled weather tend to mess with the fishing but the mountain streams can use the fresh shot of water. May was exceptionally dry by our standards and it will take a little be to get things back to normal. In fact, most streams have almost gotten there but the Little River watershed seems to be missing out on most of the rain. We saw a report of a flash flood on the West Prong of the Little Pigeon River in the proximity of the Chimneys Picnic area yesterday, but even though there's only a ridgeline separating it from upper Little River, there was only a quick shower near Elkmont.
Stream flows aren't what we'd call critical, but they're certainly lower than what we expect in June. This is more of a late summer flow but with all the rain around and more in the forecast we're sure Little River's number will come up soon.
We're seeing the best results in the Smokies with dry and dropper set ups. Not all fish are willing to look up so it's a good way to hedge your bets while still catching some fish on a dry fly. The higher in elevation you go the more likely you'll be able to fish strictly with a dry fly but a nymph will likely do better in larger waters. It's also the time of year when terrestrials become a major food source for trout so be sure to keep a few beetle and ant patterns on hand.
The float scene continues to be good for us even if rumbles of thunder and flashes of lightning keep us nervous. We're seeing some dry fly action on the Holston but not so much as we've become accustomed to in previous years. The nymph is still the best way to go. The Clinch has had some good reports but optimal flows for floats have been inconsistent and we our stars haven't lined up to float that river in some time. Fish quality has been excellent on both rivers this year even if catching the fish has been a little bit tougher than we'd like on some days.
It's also time for smallmouth bass on our rivers. The lower end of the Holston is coming along nicely and it won't be long before some of our favorite streams really turn on with fish slurping down popping bugs. This is always a high point later in the summer when trout fishing can slow down.