It's that time of the season when it can be hard for me to remember where I was only three days ago because we're covering so much water. On any given day Charity and I might be almost anywhere within an hour or so of Townsend, including a vast expanse of Great Smoky Mountains National Park and our local tailwater rivers.
Most people seem much more interested in the Smokies so that's where we'll start. Everything has been fishing pretty well, although the bigger waters like Little River have become noticeably tougher on the warmest days. Most of the big spring hatches have passed but you can certainly expect some superb fishing in the waning daylight just before dark with heavy egg laying flights of Yellow Sallies.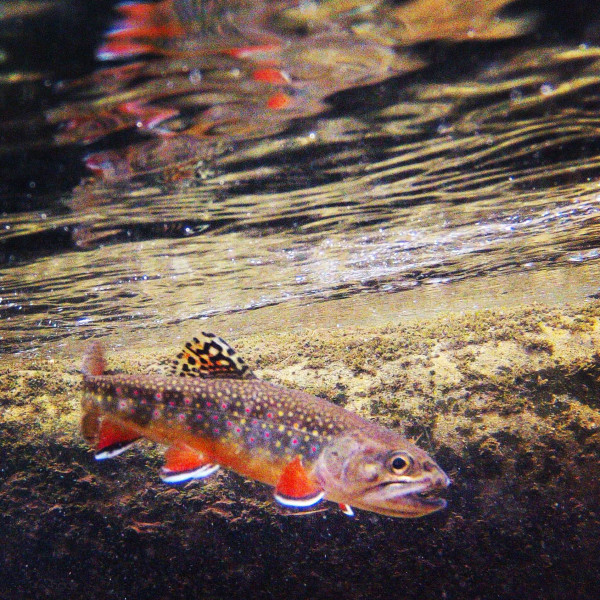 Some of our favorite days on the water have come when we've walked back into places that don't see many anglers. We always say that 90% of the people fish about 10% of the available water, and that hold true when you consider the backcountry streams too. It's been a blast revisiting some places we haven't been to since last summer and in a few instances, a couple of years or more. If you're up for the walk there are plenty of places to fish in isolation.
Here's an interesting photo of a brown trout caught on Little River with a George Nymph in spite of a mouth full of dace. It's not at all unusual for brown trout to eat smaller fish but this is the first time we've ever caught one with a fish sticking out of its mouth! For the record, we have landed a number of both brook trout and smallmouth bass over the years with either salamanders or crayfish in their mouths.
We using a combination of nymphs and dry flies to catch fish in the Smokies, but to be completely honest there hasn't been any real formula. Nymphing has been better than dry fly fishing in the mornings. Depending on the day the fish will take dry flies well and other days they're more than willing to eat nymphs, just no so eager to rise for dries. This has kept us fishing dropper rigs most of the time, catching fish on a variety of nymph and dry fly patterns. As always, the location where a fly is cast the quality of the drift have been far more important than any specific fly pattern.
The wildlife has certainly been out and about too. We're seeing plenty of turkeys along the roads and streams and we've seen a good number of bears while fishing. Here's one foraging along a slope above the water. We weren't very close at all and there's quite a bit of zoom here as the bear was somewhere between 50-70 yards away.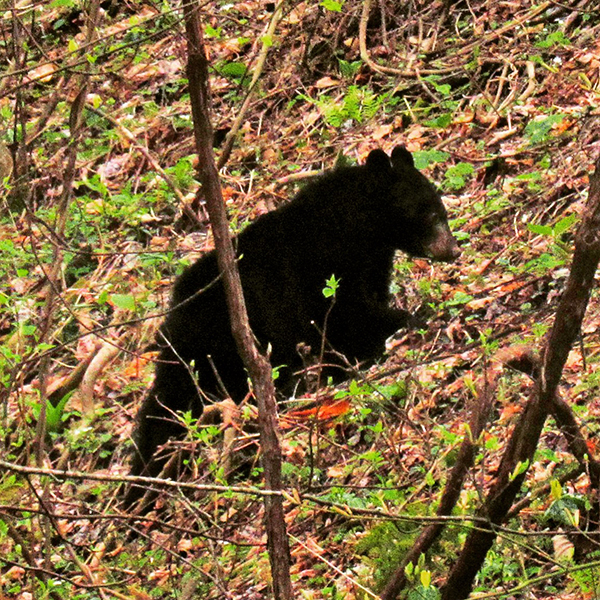 Now let's switch gears and talk about the tailwaters. We've been hearing some phenomenal reports from the Clinch, but unfortunately for those of us who tend to row the big rivers instead of wade them, the Clinch has been too low to effectively float. We've heard of a few folks doing it, but we really hate weaving a boat between wading anglers and to be completely honest, when the water is this low it's harder to hook fish from a boat than by wading. Flows are starting to change on the Clinch, so it probably won't be too long before we're there again.
Virtually every float we've done since mid March has been on the Holston. The river hasn't been "bad", but we haven't experienced the exceptionally high numbers of fish we've seen in previous years. It might be fair to say that it's fishing closer to the way we've seen the Clinch in past years; tough but still productive. We've had some rising fish, but far more have been on the nymph this spring.
We're seeing some caddis on the Holston and the Sulphurs are certainly picking up steam on the Clinch.