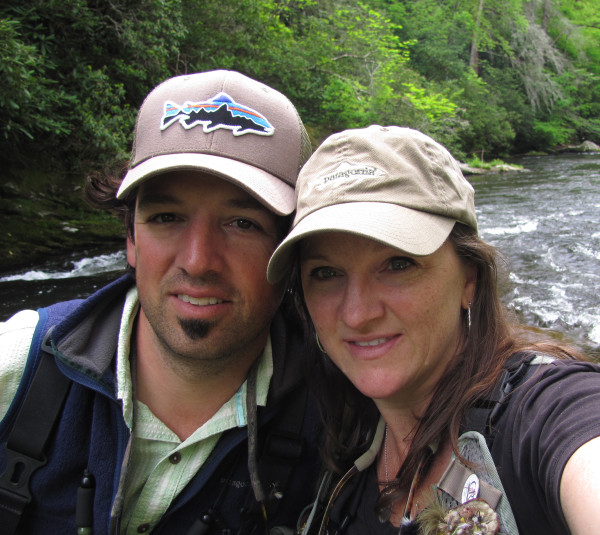 Ian & Charity Rutter are the owners and guides at R & R Fly Fishing.
We share a love of the Great Smoky Mountains and the rivers and streams that carve the Southeastern landscape. All of our guides are top-notch and have a wealth of experience in a variety of fly fishing settings. All of the guides have a simple goal: they want you to have fun and learn how to become a better fly fisher. We have chosen to spend our lives fly fishing and invite you to come join us on the water.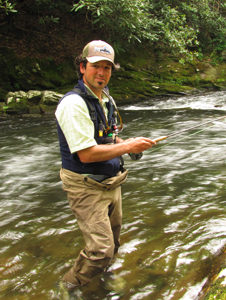 Ian Rutter: Owner, Guide, Author
Ian has been fly fishing non-stop since the early 1990's. He scheduled his classes around fishing while at the University of Tennessee at Knoxville. Ian graduated with a Bachelor of Science in 1994 and began guiding fly fishers in 1995. He is among the most sought after fly fishing guides in the Southeast and is on the pro staffs of both Scott Fly Rods and Hyde Drift Boats.
Ian is equally comfortable guiding on the streams of the Smoky Mountains and the large tailwaters of East Tennesse and Western North Carolina. He wrote Great Smoky Mountains National Park Angler's Companion, Tennessee Trout Waters: Blue Ribbon Guide, and Rise Rings and Rhododendron: Fly Fishing the Mountain Streams and Tailwaters of Southern Appalachia.
While Ian has logged countless hours on the water in Tennessee and North Carolina he spends a good deal of time fly fishing in the Rocky Mountains every year. He also makes regular trips to saltwater destinations like Florida and Belize for bonefish, tarpon, permit, and redfish.
Favorite Times to Guide: Spring hatches in the Smokies, Caddis hatch on the Holston River, Fall BWO hatches in the Smokies (Can you tell he's a dry fly nut?)
Most memorable moments in fly fishing: Chasing a 26″ brown trout 150 yards down Little River to land it, casting to rolling tarpon at sunrise, floating the Yellowstone River on a snowy day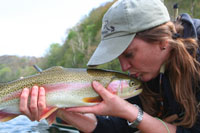 Charity Rutter: Owner, Guide, Graphic Designer
Charity is a native Oklahoman and moved to Townsend in 1998. She met Ian and took up fly fishing a short time after. Charity was captivated by the sport and essentially fished non-stop in her first few years. She has been guiding since 2002 and maintains a busy guide calendar March through November. In 2014 Charity was recognized by Field & Stream magazine as on of the top female fly fishing guides in the nation. Charity is a pro staff member for Scott Fly Rods and Hyde Drift Boats. In addition to fishing all over the Southeast and parts of the West, she is addicted to saltwater flats fishing, especially tarpon.
Charity holds a Bachelor of Arts degree in Graphic Design and operates her own design business, Charity Designs. The few times she's not on the water, she designs logos, brochures and other print materials. Her skills are evident in the graphic design of Great Smoky Mountains National Park Angler's Companion, Tennessee Trout Waters, and Rise Rings & Rhododendron.
Favorite Things About Guiding: Seeing a beginner catch their first trout. Helping an angler learn a new skill.
Favorite Water: Anywhere in the Smokies
Favorite Floats: Casting streamers on the Clinch