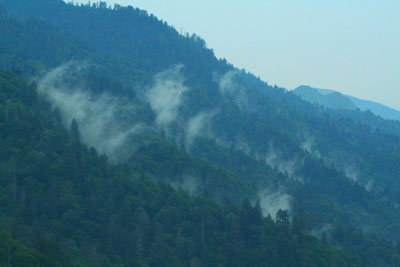 The Smoky Mountains are living up to their name thanks to recent rains.
We're thrilled to report that we've had rain everyday this week. Most of the storms have been relatively short, but there have been more widespread rains all week and some have been heavy. Stream levels have responded and while things are still low they are a vast improvement over what we've had. More rain is forecast for the next several days. While it will take a few tropical storms to get our annual rainfall anywhere close to normal here in Tennesse it's good to see a return to a normal weather pattern that features almost daily showers.
Guiding remains busy with all guides on the water. Most of the trips we've been doing have had a backcountry component. Little River upstream of Elkmont has been one of our favorite haunts, but I headed to some less traveled water on Monday. Tom Ellison of south Florida went high into the upper sections of Bradley Fork. The fish were really active and Tom caught several nice rainbows and browns that were between 10″ – 12″. We lost count of the final tally of fish but Tom felt confident that he hooked and lost the best fish of the day. Almost all fish were on dry flies. There were a couple of refusals on Parachutes and Stimulators, but those same fish ate an ant pattern with confidence.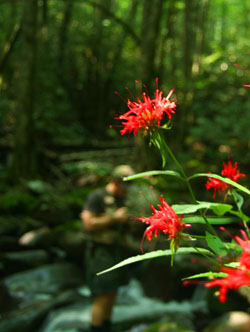 Charity has been taking anglers on Little River as well as some of her favorite brook trout water. She has seen her fly fishers land several nice trout on nymphs this week including one brown that was close to 14″. However she's also sticking to dries when brook trout are in the mix.
We've also done a couple of floats on the Holston this week. Tim Doyle and I were both on the river on Tuesday. While the trout fishing has slowed substantially from the fever pitch we saw in May, there were still some nice trout brought to the boat. Tom Ellison hooked a number of nice rainbows and browns. Dry fly fishing was so-so, but nymphing consistently produced. Tim's boat started to target smallmouth on the second half of the float. Trout and smallies share the water in this stretch of the river, but usually have different preferred habitats. Trout are usually found in swifter water and the smallies are most aggressive in calmer waters with plenty of cover. We occasionally hook a smallie on a nymph and even caddis emergers, but poppers and Woolly Buggers cast to deadfalls are the sure way to hook them.