I went to the latest Tennessee Coldwater meeting in Knoxville. This is essentially a summit where biologists from TVA, TWRA, the US Forest Service, and Great Smoky Mountains National Park come together to share information with each other and member of the Tennessee Council of Trout Unlimited. This isn't a public meeting where regulation changes are proposed or public commentary is heard on the record. It's a more casual meeting where the biologists share news about the work they've been doing and it gives regional leaders in Trout Unlimited a chance to hear about projects in other areas of the state.
Great Smoky Mountains – We are very involved with the biologists in the national park and already knew most of what they had to say. Most of the commentary from Steve Moore was about the Lynn Camp Prong brook trout restoration in the Tremont section of the park. It seemed that someone had taken a few rainbow trout back into the stream after all rainbows had been removed and restored with brook trout. Last September brookies were removed from that stretch of water by electro-shocking and taken to a neighboring stream. This was done to keep them separate from the rainbows that had to be removed. After the brook trout were moved out, that section of Lynn Camp Prong was re-treated with antimycin to kill any remaining rainbow trout.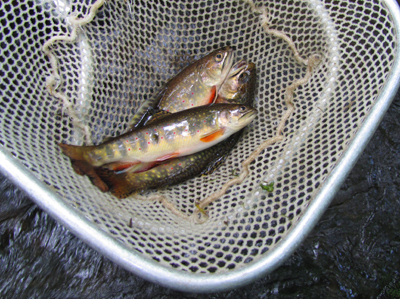 Lynn Camp Prong brook trout captured during a sampling to check the growing population
Exhaustive shocking was done throughout the entire length of the stream and that was the only section with rainbow trout. About 70% of the brook trout were recovered from the neighboring stream and brought back to the section of Lynn Camp Prong where they had been removed. Furthermore, an additional 800 brook trout were brought into Lynn Camp Prong to bolster the population. Heavy flows from this last fall may have hampered the spawn, but nothing can be known for sure until later this summer when the stream will be sampled.
Tellico River basin – Jim Herrig of the US Forest service reports that the Tellico trout hatchery is a pioneer in propogating native Southern Appalachian brook trout. This is an experimental program in cooperation with TWRA. Brook trout were collected from Sycamore Creek, Bald River, and Henderson Branch for brood stock. About 120 fingerlings were produced and biologists reported that wild brook trout behave far differently in a hatchery than typical rainbow trout reared in a hatchery. One of the largest issues was that about half of the fish would not eat trout pellets and had to be released. The biologists plan to change their methods slightly next year and the long range plan is to use this method to propagate native fish for future restorations.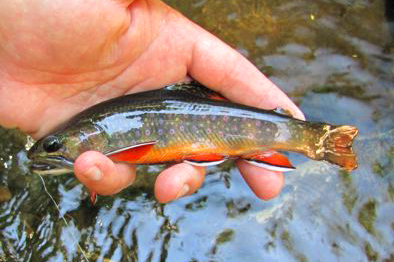 Brook trout are becoming more common in the Tellico River basin
Steve Moore from Great Smoky Mountains National Park related the recent discovery that Southern Appalachian brook trout have spawning preferences that biologists have no idea of how to identify. DNA samples were taken from fish used in restorations. Fish from different streams were used in restorations to minimize the effects of removing too many fish from any one stream. After several spawning seasons DNA samples were taken from fish. DNA samples show that there is very little, if any, cross breeding between those populations of fish placed in a restored stream. Moore pointed out that this may have contributed to the limited number of fish that were successfully spawned in the hatchery. This seems to be an issue that will have effects on restorations.
Jim Herrig reported that a brook trout restoration done on Sycamore Creek some years ago in the small headwaters with only 200 fish was wildly successful. The numbers of those fish grew significantly and the population moved downstream of a barrier falls and displaced a wild population of rainbow trout for over a mile. Herrig would like to remove rainbow trout even further by electroshocking and immediately place brook trout in that water. His hopes are that expensive, time intensive restoration methods used now may not be necessary if brook trout can displace rainbows on their own.  The Sycamore Creek restoration is already more successful than it was envisioned and the Forest Service would like to try this in conjuction with the brook trout hatchery program as an experiment.
Herrig also reported the banning of Off Road Vehicles in the Tellico River watershed seems to have already had beneficial results. Tellico River clears much faster after rains and the numbers of mussels in the lower river have increased dramatically. This should help aquatic insect populations and have benefits for trout spawning.
TWRA cold water biologist Jim Habera reported that several wild trout streams in the southern districts of the Cherokee National Forest have not made much of a recovery from the drought of 2007-2008. Water levels have recovered, but high water levels during spawning periods have hampered reproduction. Trout populations are higher now than they were immediately after the drought, but far from what they were previous. He fully expects populations to make a full recovery when water conditions normalize.
Clinch River –  Jim Habera reports that the slot limit on the Clinch seems to have had impressive results. Trout in the 14″ – 20″ size range are at a record density. Slot limits have had mixed results in the past, but this is by far the best result they have ever seen.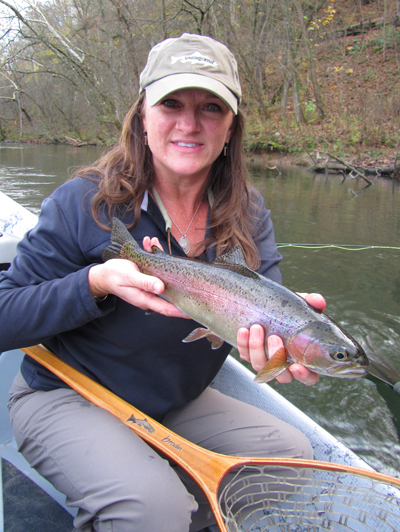 Clinch River trout in this size range are more common than ever before
South Holston River – Jim Habera reported that the number of fish in the slot limit was nearly as low now as when it was first imposed. However, that comes after several years of higher populations in that size range. Right now there is a year class of fish missing from the river, almost surely the result of a bad spawn several years back. Every year those fish will be missed less as successive generations grow. On the bright side, the overall number of 9″ – 12″ trout in the river is at an all time high. This sets up for good numbers of large fish in the next couple of years.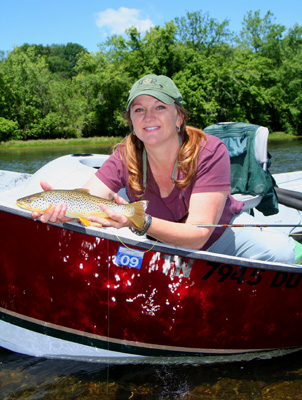 South Holston brown trout are more numerous than ever, but currently a little smaller than previous years
Hiwassee River –  This is the first year of delayed harvest regulations on the river and the removal of the "Trophy Section". This was done because water temperatures played a much larger role in fish populations and growth rates than angling pressure. The most accessible areas with the most angling pressure also received the most stocking. The former Trophy Section had extremely limited access and light angling pressure. That also meant it received very light stocking and also had the fewest fish. Light angling pressure often leads to larger populations and larger trout, but this was not the case here. Trout populations and sizes never showed any benefit from the previous regulations. Sampling will be done on the river this year to see how the seasonal catch and release regulations affect the population over the course of the year.
Caney Fork –  This middle Tennessee tailwater has seen an explosion in trophy trout populations. A slot limit was imposed on brown trout several years ago with positive results. Last season a 13 pound brown trout was captured in a TWRA population sample. Regulations have been deemed so successful that catch and release regulations have been imposed on brown trout up to 24″ and rainbow and brook trout also have a 14″-20″ slot limit protecting fish in that size range.