It's been an extremely mild winter, even for the Southeast. Here in the Smokies we tend to get a more distinct winter season than neighboring areas in the Tennessee Valley. For instance, the last two winters were pretty severe and we had plenty of snow. In fact, almost six feet of snow accumulated on Mount Leconte a few years back.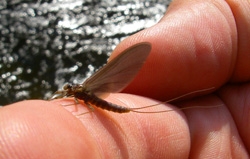 We've been keeping an eye on things and began to wonder last week when we witnessed a pretty strong egg laying flight of Early Brown Stoneflies at Tremont. We didn't want to get anyone riled up, but we saw a couple of Quill Gordon mayflies that day too. We've never cared about groundhogs, but you can be pretty sure about things if you pay attention to the bugs on the stream.
The Quill Gordon is one of our favorite hatches and one we have carefully documented over that years. The earliest hatch of consequence I've ever witnessed was on February 14 on Citico Creek. Two of the largest brown trout I've ever caught in the Smokies were on February 27th and 28th of different years during Quill Gordon hatches.
Last Saturday I did see what can only be called a hatch of Quill Gordons on Little River. Granted, it wasn't a particularly strong hatch and it didn't last long, but fish were up rising in several spots. And I did catch a pretty nice fish on a Quill Gordon imitation. I caught this nice brown trout using a Tenkara rod. More to come about that in another post.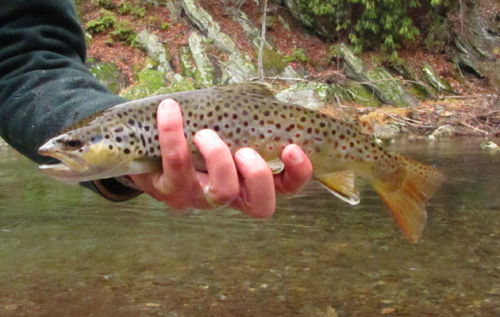 We'll keep you posted, but it looks like hatches in the Smoky Mountains will be running a little ahead of schedule this year. In 2010 and 2011 we didn't see many Quill Gordons until about March 10. That was about a week late, but we're easily running three weeks early this year.