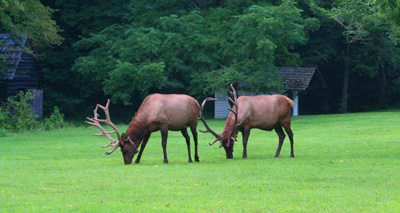 It's relatively rare we get the time to go on even a short, regional trip when spring fishing is at its best. Thanks to this year's early spring it looks like that will happen. The guiding has started up, but has yet to reach the fever pitch it will in a couple more weeks, so we were able to put aside three days for a family camping trip with some fishing. We're heading to one of our favorite spots in the Smokies, Cataloochee Valley.
It's just far enough away that we don't visit there as much as other places in the park. Also given the fact that our local tailwaters, the Clinch and Holston Rivers have flows not worth messing with, it's the perfect time to hit Cataloochee Creek and find some rising fish. This should also be the first time this year we land a few brook trout since they are well dispersed throughout the valley.
We're also expecting the bull elk to have dropped their antlers. This will be the first time we've been to Cataloochee since the elk re-introduction when it wasn't late summer or autumn, so that will be new. We'll also be keeping our eyes open for any early rising bears. We'll report back with pictures when we return.