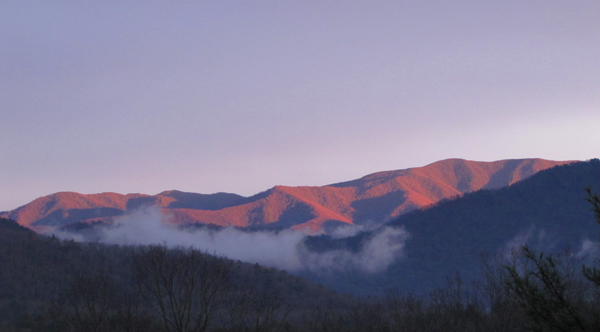 Phenomenal evening light over the Smoky Mountains as the skies clear after heavy rain last weekend
It was a tough weekend to be a fly fisherman in the Smokies and we'll just go ahead and say it was probably even tougher to be a fly fishing guide in the Smokies. Water levels were pretty high and our stream levels page indicated Little River was essentially unfishable.
I was scheduled to guide some novice fly fishers on Saturday and they really wanted to try it anyway. I agreed to see what we could do, but didn't make any promises. We found a handful of fishy runs on Little River and they managed to hook our miss a few fish before lunch, so I told them we could stick with it if they wanted to. They were an enthusiastic crew and didn't want to call it a day. They told me they knew they could at least learn more about casting and rigging their equipment and wanted to give it a try so we headed for a couple of smaller stream to find some more fishy water.
One of those streams just didn't have any negotiable water at all so we headed on to my second choice. It was actually somewhat fishable, but there was enough high water you had to fish spots and couldn't stay in the stream to fish a very long piece of water. This stream actually fished quite well under the circumstances and we actually rose a pretty impressive number of fish but had to continue with the "run and gun" strategy to stay in the game.
Another round of big storms passed through Saturday night and I was scheduled to take the same pair fishing again on Sunday. I told them the the best case scenario was a repeat of the previous day and I was reluctant to take them again when the fishing would be tougher than it should be. They agreed so we called it off.
Dryer weather is in the forecast and stream levels have fallen off to high but fishy. This will only improve as the week progresses.
Now for the good news…
The tailwater scene looks like it's starting to get good. Cherokee Dam has the best flows we've seen since early last fall and flows have also started to subside on the Hiwassee, South Holston, and Watauga. The Clinch is the single exception with continued high flows, possibly for a few more weeks. I've got to get this up on the blog and go get the drift boat washed and prepped for the season. I should be able to get over to the Holston soon and can't wait to get back on it!