There's nothing out of the ordinary to report about fishing conditions across East Tennessee and the Smokies. Water conditions are relatively low but we'll probably get some rain off of the periphery of tropical storm Isaac to bring them up a bit. After a pretty nice cool down we're experiencing some hot days again, but overnight temps have been cool enough to make it late afternoon before it gets hot. That is keeping water cool and the fish comfortable even though they would probably prefer a little more water.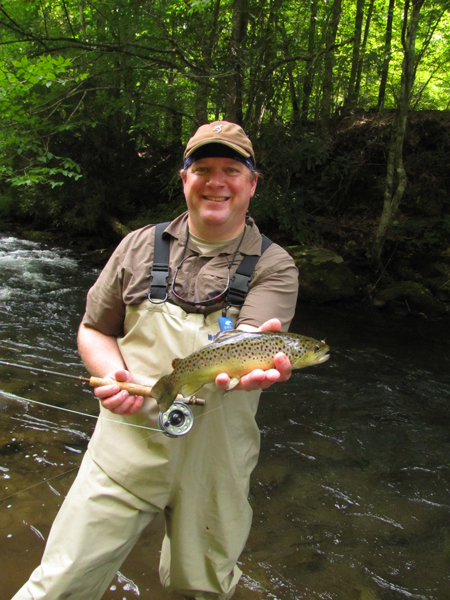 Trey Coale caught this very nice brown trout on a Copper John fished under a Royal Stimulator. He actually broke another fish off that was nicer than this one that took the Stimulator. With the relatively cool temperatures in the mountains Trey opted to go with waders, but we're still partial to wading wet.
Smallmouth Bass
The cooler weather hasn't only energized the trout, but the smallmouth bass as well. All of the low elevation streams we fish have lost that bathwater feel and the smallies are certainly more energetic. As always, these streams are neglected since the typical stream angler chases trout and the typical bass angler frequents the reservoirs or larger rivers.
Tailwaters
The tailwater scene hasn't changed much and is also in that late summer groove we usually experience this time of year. TVA is drawing down the reservoirs which means we're seeing high flows on the Clinch and Holston Rivers. The Holston has some brief windows for fishing but the Clinch has really kicked into high flows. No sense in heading to the Clinch unless you're highly motivated and want to do nothing but cast big streamers with quick sink lines.
The Clinch does have more moderate flows on the weekends, though, so you can count on some decent fishing then. You can probably count on some wader friendly flows over Labor Day weekend as well. The rivers don't usually fish great when the flows change so radically from one day to the next, but at least the opportunity will exist.