It's been a seemingly mild period of early winter weather here in the Smokies. It's easy to see hoarfrost on the ridgetops many mornings as mists have frozen to tree limbs, but most of the days have been pretty pleasant. By the time the clock ticks past 11:00 the temperature has usually been above 40 and several days we've seen temperatures in the 50's by the afternoon. Seems like great conditions to get out and fish.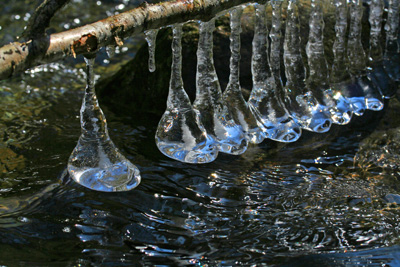 Unfortunately we've seen this as a cruel head fake. Night time lows have been down in the 20's and it's important to remember that the nights are almost 15 hours long now. That means the average temperature is down below freezing and the water temperatures are showing it.
Any time you get down below 40 it's going to be tough. Fortunately it looks as if we have some rain on the way and that should warm streams up and get the fish moving. In the meantime, keep those nymphs weighted and watch for subtle takes.