We've seen several mild days in a row here on the Peaceful Side of the Smokies and daytime highs have been about 80. That's very cool compared to the sunny, humid, and hot days at or above 90 we suffered through. Tomorrow the high is forecast for the 60's and mornings next week will be in the 50's.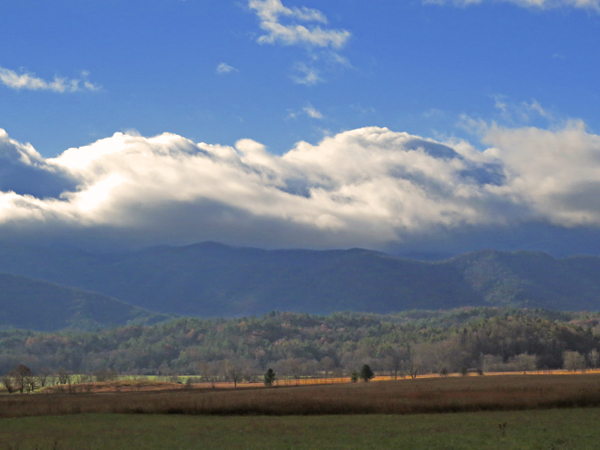 Furthermore we're headed out to Yellowstone Country for our annual September ritual. Weather there is forecast for frost in the mornings and highs around 60. Aaahhh…. We're so ready for this.
Usually by the time we arrive on the cusp of October the leaves are changing along the crest of the Smokies and autumn is moving right along.
The really good news is that the rain we've had along with more in the forecast has Smoky Mountain streams running the way they should. Last week was pretty pitiful and the only thing that made it OK was the imminent in the forecast. Charity had a couple on the river yesterday as the weather was rolling in. All the fish took dry flies in spite of the nymphs that were offered. Gotta love that!
The tailwater situation has improved dramatically. TVA was pretty aggressive about drawing down the reservoirs last month and right now they're pretty far ahead of schedule. This past week the Clinch had a very fishable schedule and the Holston wasn't too bad either. I wouldn't bet my last nickel that this will last though. Today the schedule wasn't so friendly on the Clinch so I'd pay close attention and take advantage of good flows when you get them.
A few things to keep in mind elsewhere in East Tennessee. Turbine maintenance at Apalachia Dam has the Hiwassee running one generator around the clock. There's also a problem at Chilhowee Dam and Chilhowee Lake is being drained to see what the issue is. All boat ramps have been closed and no one is even allowed to walk out into the lake bed unless it's downstream of the mouth of Abrams Creek. This is one of our favorite day off places to simply float around, cast poppers to bass and bluegills, and take the kids swimming so we hope everything works out.
However, it wouldn't hurt our feelings if the dam can't be repaired and we got the Little Tennessee River back. We saw the river a few years ago during another project on the dam and it's the fishiest looking thing we've ever seen. It has a character much closer to the Hiwassee than the Clinch and cold water is in abundance unlike the Hiwassee. We'll keep our fingers crossed but, again, not betting our last nickel on it.