This was originally published in the March /April 2003 American Angler, before the entire park was open to fishing for brook trout.

Cold, clean waters splash over moss covered boulders. A few beams of light filter through the thick treetops. Streamside vegetation makes casting difficult but bright brook trout often rise to meet a fly that finds the water. High up in Southern Appalachian streams, brookies see relatively few fishermen and are naive with regard to artificial flies. Some of these brookies are just seeing their first artificial flies as previously closed streams in Great Smoky Mountains National Park have recently opened to fishing.
Nowhere in the eastern United States can a fisherman find a larger conglomeration of trout streams than the Great Smoky Mountains National Park in Tennessee and North Carolina. The park is roughly 600,000 acres and features over 700 miles of wild trout streams churning through its lush interior. While rainbow and brown trout are common in most of these mountain rivers, brook trout still flourish in most headwater streams.
Brook trout are native to the Great Smokies and the entire Appalachian chain. Local fishermen angling under these southern hardwood forests usually refer to brookies as "specs". Irresponsible logging practices of the early twentieth century took a large chunk out of the brookies' range in the Smokies. Silt washed into the creeks and the lack of shade warmed the water beyond their tolerance. Rainbow trout were introduced to the Smokies in order to re-establish trout populations. The one – two combination of logging and introduced rainbow trout knocked the brookies out of the larger streams and confined them to the headwaters.
By the mid 1970's fisheries managers believed that brook trout populations were approaching crisis levels and closed most of the streams that held brook trout. The regulations also prohibited creeling brook trout anywhere in the park. Many of the old time fishermen put up their tackle, not satisfied fishing for the exotic invaders that displaced their beloved specs. Only a few streams that held brookies were left open and many of these required a lengthy hike to reach.
Today's fisheries biologists are equipped with new data and have begun to change fishing regulations inside the national park. Trout in the Smokies are relatively short lived creatures. Angler surveys coupled with annual trout population monitoring indicates that angling has a minimal effect on populations. Eight streams have now been opened to fishing for brook trout on an experimental basis. These streams are well distributed throughout the park and provide for a variety of fishing experiences. Brook trout regulations throughout the park may change as a result of this three year experiment. All streams in the park may open if brook trout populations in these eight streams show no decline.
Regulations on these streams include single hook, artificial only lures or flies. Bait is prohibited. A maximum of five fish may be kept with a minimum length of seven inches. Fishing pressure has been historically light inside the national park and fisheries managers don't expect this change to cause an increase.
What many Smoky Mountain fly fishers refer to as open casting is often seen as tight conditions anywhere else. Most brook trout streams are best fished with rods less than eight feet in length. Keep in mind that many casts will be in the range of fifteen feet or less. Roll casts are a necessity in many spots. Leaders should be kept short and tippet finer than 5X is not needed. Bushy dry flies handle the rough pocket water and do a fair job of attracting fish.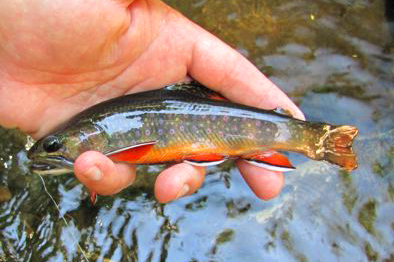 Most of these high country brookies are rather small but their aggressive nature makes for an action packed day on the stream. Only a fraction of the fish that come to your fly will be eight inches. Only on the rarest occasion will an angler catch a spec larger than this. However, their colors are larger than life.
The Streams
Walker Camp Prong: This stream is among the most accessible brook trout streams in Great Smoky Mountains National Park. It closely follows Highway 441 which traverses the park between Gatlinburg, TN and Cherokee, NC. The stream is on the Tennessee side of the park, upstream of the popular Chimneys trailhead. Rainbow trout are also a possible catch but less common as you travel upstream.
Cosby Creek: This is a tumbling little stream that provides good trail access upstream of Cosby Campground. It's a national park campground that can accomodate tents or RV's. Brookies may be caught downstream of the campground but are more common upstream. Rainbow trout become more frequent the farther down the creek you go.
Indian Camp Creek: This stream is situated between Cosby and Gatlinburg, TN and flows under Highway 321. While the stream is not that hard to access, it may be a little tough to find so be sure to bring a map.
Fish Camp Prong: A tributary of Little River, this was once known as one of the best streams to catch specs. Its somewhat remote nature will always keep the crowds away. While large specs are not common, you may find more over the seven inch mark here than you might in more accessible streams. You should find some rainbows in the mix with the brookies. It is a three and a half mile hike to Fish Camp Prong plus another two and a half miles to the point where specs start to turn up. That's a long hike for a day trip so you might consider bringing a tent along with your fly rod.
Beech Flats Prong: There's good news and bad news concerning access to Beech Flats Prong. The good news is that the stream parallels Highway 441 and only requires a short walk. The bad news is that it is a steep and brushy walk down to the creek. You shouldn't ever be any further than a few hundred yards from Highway 441, but the thick vegetation will make you feel like you're miles from civilization. Beech Flats is one of the headwaters of the Oconaluftee River. Near the 'Luftee it sports a mix of rainbows and browns. The browns disappear quickly but the rainbows persist much further up the stream. However, specs quickly dominate as you progress up the creek.
Bunches Creek: This is one of the larger streams to open under the experimental regulations. Access is more difficult on this stream than others but a long hike is not required to get on the water. This stream is not as steep as most high elevation creeks and has an excellent brook trout population.
Lost Bottoms Creek: This small stream is accessed through the beautiful and secluded Cataloochee Valley on the North Carolina side of the park. Be sure to watch for recently re-established elk while driving to the trailhead. Lost Bottoms Creek may be accessed with a short hike and makes for a good day trip.
Hazel Creek: This has long been one of the most heralded streams in the mountains of western North Carolina. The section of Hazel Creek under experimental regulations is one of the larger streams in the program. Its remote location requires at least an overnight trip since a ferry across Fontana Lake is required before the long walk to camp. A ferry can be arranged at Fontana Marina at Fontana Village.
Other Smoky Mountain brook trout streams to keep in mind…
While there are only eight streams open under experimental regulations, there are several other streams in the park to keep in mind if you love catching colorful brookies. The following streams are also open to fishing but are limited to catch and release only for brookies.
Middle Prong of the Pigeon River: This is a wide open stream with big boulders and deep plunge pools. Rainbows share the stream with the brookies but begin to fade about a mile from the trailhead. Access the stream at the Ramsey Cascades trailhead in the Greenbrier section of the park.
Ramsey Prong: This small stream is a tributary of the Middle Prong of the Pigeon and accessed the same way. Most trail users here are on the way to Ramsey Cascades. It is a long way to the cascades and you probably won't make it all the way there if you find the fishing to your liking.
Deep Creek Deep: Creek is best known as a first rate brown trout stream near Bryson City, NC. However, brookies are still common in the headwaters. In fact, the Smoky Mountain grand slam of brook, rainbow, and brown trout may be caught from the same run in the high elevations. It is a steep hike in from Highway 441 near Newfound Gap.
Raven Fork: This may be the largest stream in the Southeast where you can still catch wild brook trout. The rugged terrain here caused lumber companies to pass this watershed over during the pre-park era. Rainbow trout have infiltrated this secluded area but have not displaced the native specs. Access is via the Hyatt Ridge trail near Cherokee, NC. Unfortunately you have to climb Hyatt Ridge and drop down into the Raven Fork, a three mile hike. This makes the trip seem uphill both ways.